Targeted Body Shaping – 5 Minutes at a Time
Over three decades of expert experience and research
wrapped up in an easy, fun solution
 Video and audio downloads of ten Fit Quickies 5 minute workouts
from the Fit Quickies book.
Do you barely have time to dash from one task to another, let alone invest big chunks of time in an "exercise" program?
Are you getting  diminishing returns for the time you do invest in exercise because it is so doggone random and haphazard that your results are as chaotic as your non-existent plan?
Are the body strenthening and shaping results you're certain you SHOULD be getting, elusive?
Or maybe you've just fallen hard off the workout wagon and need a kick in the hmmhmm to get you going?
Look. There are two problems here.
As much as you know you need to get some exercise, it's taken a back seat. You are busy from the break of dawn and before you know it it's 3:00 in the afternoon and "work out" has not been checked off on your "to do" list.
Energy levels, you notice, are not the only thing dropping. If those famously stubborn areas are oddly shifting, or the activity you do manage to squeak in is not delivering the revitalization or strengthening that you want – well nothing's going to change until you master some strategies.
The Fit Quickies Solution
Do want to know how to sneak in effective exercise so that you can feel quickly energized while tightening those tough spots?
Are you looking for fast, laser focused moves that target your middle, thighs, seat and arms –  for instant invigoration and better shape?
Just between us, it's time to hear the message
Lack of consistent challenge to your body is resulting in diminishing energy reserves.
And whatever you are doing for exercise is not sufficiently challenging the muscles you so earnestly want to shape.
If you want an energetic body, you need to move it.
And if you want beautiful curve to your muscle, you need to look them straight in the eye and command their attention.
Fit Quickies™ make them sit up and take notice.
Let's face it. We want both. They are both cornerstones to your vitality, presence, and spirit of success.
Fit Quickies™ to the rescue
Fun, simple, in private, in minutes.
For a quick, energetic boost and effective body shaping strategies – anywhere, any time.
Classy. Elegant. It's the ultimate in privacy and convenience with exercise.
Start targeting triceps, abs, inner thighs, seat, muffin top, and more – in minutes with these fun, effective moves.
And here's the beauty of it all.
You can sprinkle these in short, 5 – 7 minute bursts throughout the day OR string them together as in the Fit Quickies™ Express 50 for an effective, complete workout.
Fit Quickies. For the person who doesn't have time yet secretly craves feeling and looking like they do.
More about the Fit Quickies video collection
Fit Quickies™ #1: 7 Seconds To A Flat Belly
What's with  "belly pooch", anyway?
Let's face it. That zone right beneath the belt line in front is almost a universal area of concern.
Abdominal "belly" pooch is caused by more than just extra abdominal fat.
It is also due to the downward pressure of internal organs due to the pull of gravity combined with reduced muscle tone of the muscles deep in the abdominal wall.
Fit Quickie #1 isolates and targets this muscle quickly and effectively.
Sneak it in any place, any time. And you're on your way to a flatter belly in just minutes a day.
Click on the image below for more about Fit Quickie #1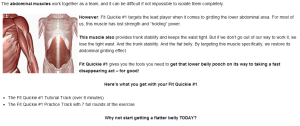 Fit Quickie #1 Tutorial Track: Click here to listen to the first 30 seconds of this track.
Fit Quickie #1 Practice Track. Click here to listen to the first 30 seconds of this track.
Fit Quickies™ #2: Inner Thigh Squeeze and Tease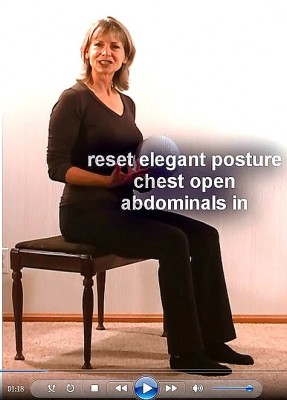 You know what this one is all about.
Thigh 'flop' is not a good feeling!
Fast acting and fun, Fit Quickie™ #2 zooms right in on the inner thigh to strengthen and shape these muscles.
Luckily these muscles are easily to isolate so that you can directly affect the strength and shape of this muscle group.
Fit Quickie  #2 is easy yet effective. As a matter of fact, you can work these in while sitting at your desk or computer.  Just pop in the Practice Track for Fit Quickie #2, and you're ready to go.
Click on the image below for more about Fit Quickie #2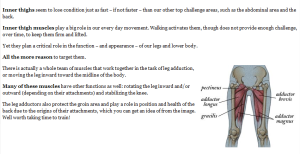 Fit Quickies™ #3: Triceps Triple Play
Between you and me:
Are YOUR triceps behaving like you want them to?
Do they continue waving goodbye, long after YOU do?
If your triceps – the muscles in the back of your upper arms – need some serious attention, then Fit Quickie #3 was made just for you.
The triceps muscle, unless we purposely challenge it, really does not get a lot of work in modern life.
Lucky for us, it is EASY to target, isolate and overload – exactly what you'll do with Fit Quickie #3 .
Click on the image below for more about how to tighten those triceps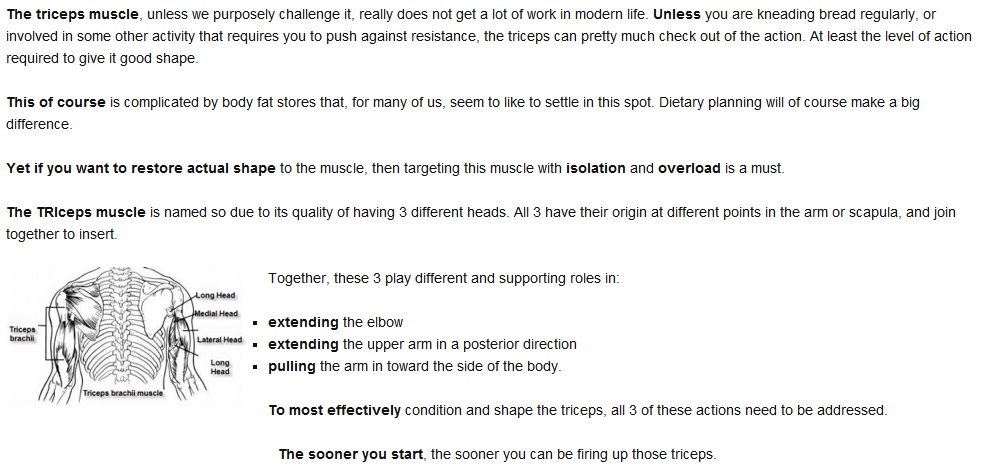 Fit Quickies™ #4: Gorgeous Glutes and Hamstrings
Are things out back going south?
Or simply flattening out – even more than usual?
Do you long for extra zip and power in your legs?
Fit Quickie #4, "Gorgeous Glutes and Hamstrings"features THE most effective strategy (research shows!) to isolate and target the back of the seat. It also challenges the muscles on the back of your thighs for superior backyard shaping.
If your gluteals and hamstrings need some serious attention – (and unless you've been target training them, I can guarantee they do) – then Fit Quickie #4 was designed with you in mind.
Click on the image below for more about Fit Quickie #4, Gorgeous Glutes and Hamstrings

Fit Quickies™ #5: Topless Muffins
You know what I'm talking about.
That melt down at the back side of the waist.
This move is also one of the best shapers I've ever found for the back and side of the seat.   Very targeted, tiny moves, but big on performance. You may have encountered similar moves in other workouts before.
I just put my own signature spin on it to increase isolation and overload: the hallmarks of Fit Quickies.
The muscles you work for this keeper are rarely brought into play in your daily activities.
Which is why targeting them with Topless Muffins makes such a difference in your profile.
If I were to take one body sculpting exercise that brings to the table the most reshaping power, this would be it.
Fit Quickies™ #6: Thigh Warriors
Imagine….
beautifully sculpted legs
rock solid thighs
new spring in your step
burning calories at a premium during very little workout time
Sound good? Then Fit Quickie #6: "Thigh Warriors" has got to be a part of your plan.
I love Fit Quickies because they are just that- quick, but I can do as many reps as I feel up for. also- just easily accessed via i-tunes, so very fast to pop right into when I see I have 15 minute to myself.
~ Tricia Johnston
Click on the image below for more about Fit Quickie #6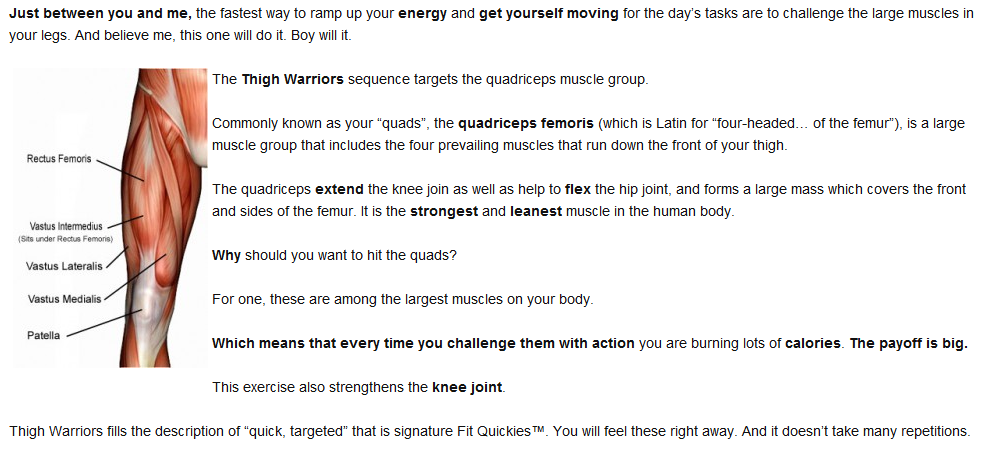 Fit Quickies™ #7: Kickstand Core Challenge
Just what you ordered.
The secret to laser-focused abdominal challenge for maximum results in minimum time.
When designing Kickstand Core Challenge variations, I reviewed the current research literature extensively.
I was determined to find out what positions and exercises for the abdominals were proven most effective in activating the abdominal muscles.
Then I combined them with my extensive training and experience with anatomical alignment and positioning to bring them to you in a simple sequence.   With the Kickstand Core Challenge and the variations I have for you, you will cut through the guess work of abdominal muscle isolation and get right to the heart of the matter with your first repetitions.
Click on the image below for more about Fit Quickie #7
Fit Quickies™ #8: Tush Tightener
Not only does this little gem put the perfect finish on your workout…
…it stands on its own as a quick energizer for any time during the day.
I call it one of my "instant invigorators"!
The gluteals – and hamstrings – are notoriously underdeveloped in women.
This results in back pain, poor posture, and quite frankly, a back yard wanting in shape and power.
And between you and me, there is nothing as energizing as having muscle vitality "back there".
Strong seat muscles are deeply connected with so many coveted elements: energy, beauty grace of movement, and how you fill your jeans, plain and simple.
And here's the best part. Tush Tightener is so much fun you won't want to stop when the track is finished. Plus, it is so versatile it can be mixed and matched with any other workout or pulled out for a quick bite of energy at any time during the day.
And there's more: Fit Quickie #9, "Higher Assets, and Fit Quickies #10, "Legs into Play".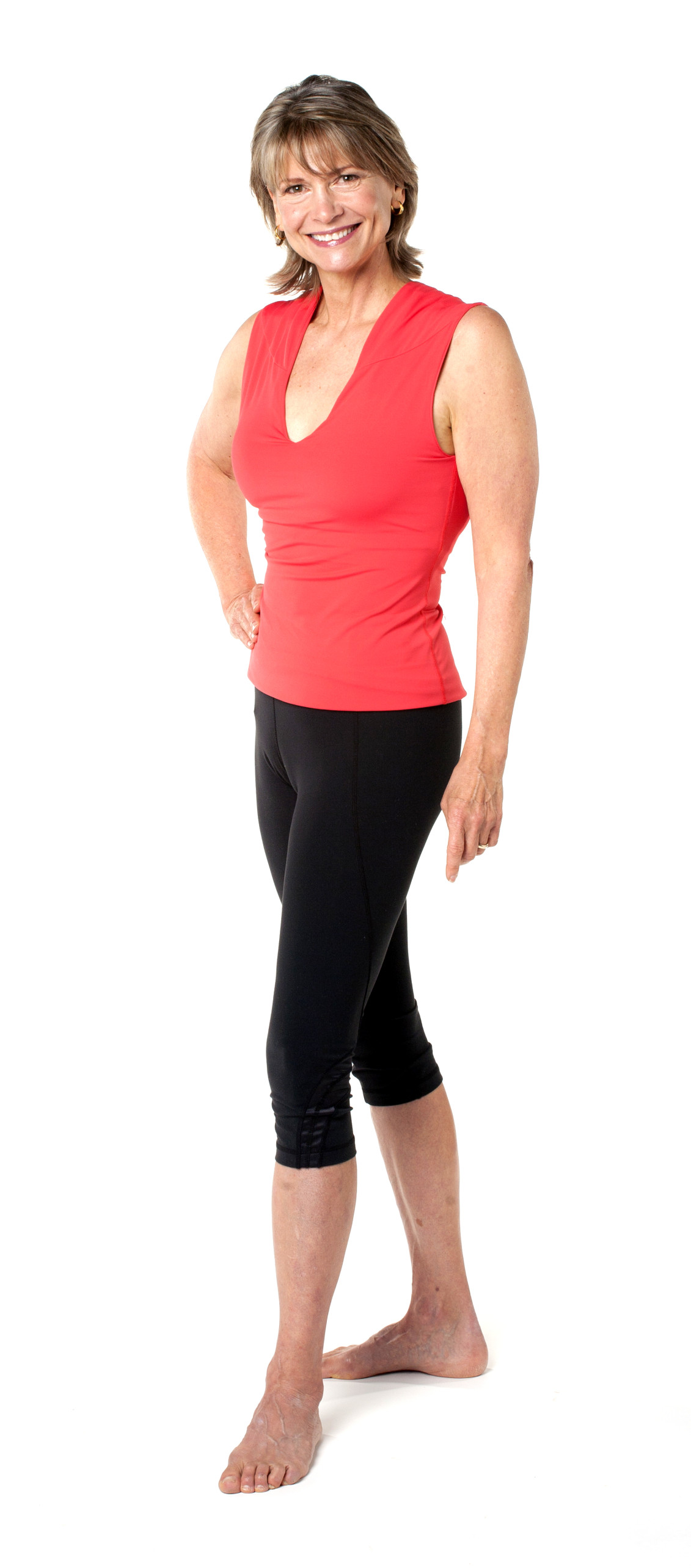 I am beyond thrilled with Fit Quickie #1! I have rapidly experienced significant firming and toning through the torso and lower abs due largely to this move, which surpasses my previous favorite abs exercise.
Sherry R.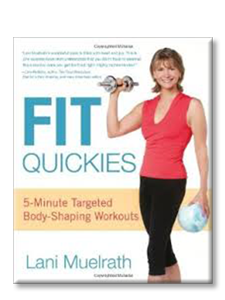 My favorite Fit Quickies are #2 and #3 – because I can see the difference in my inner thighs and arms!
Jennifer Dove
Fit Quickie #1 and Fit Quickie #4 are favorites! I like Gorgeous Glutes and Hamstrings because it reminds me of Pigeon, my favorite yoga posture . I love all the stretching in the hips and seat that you get from it, not to mention the waist.
Pat McKenzie
Lani, I love Topless Muffins, and am really looking forward to Thigh Warriors! I like that I feel like I am in control of my workouts. I get to choose these little 3 minute segments…and they are the Best of the Best. There are NO Wasted movements. Everything is honed down to the "get quick results"
Angela Crawford
I love the Fit Quickies. They're innovative, easy to incorporate into your day or to combine for a great shaping workout! They are simple… yet powerful. I also love how you can incorporate them into existing routines so easily.
Melissa Gaines
Lani, a light bulb went off with Fit Quickie #1, 7 Seconds to a Flat Belly. Thank you so much for opening my eyes and I will most definitely be sharing your website with my clients!!
Sharon McRae,
This is what you receive instantly upon your order
Each Fit Quickie comes with separate, detailed downloadable instructions in 4 Tracks.
You will also receive the transcripts.
Audio Tutorials: All the details of each powerful Fit Quickie to keep your practice – and body sculpting – in high gear. Details of position, alignment, and performance included.
Audio Practice: For your convenience to play on ipod, mp3 or computer.
For those times when you need an option other than video.
Video Tutorials: All the details of alignment and positioning for best results – in video.The only Fit Quickie that does not have this track is #2, Inner Thigh, which is clearly instructed on the audio tutorial.
Video Practice : Once you've got the exercise down, you just play and GO! Ten  workout tracks, one for each Fit Quickie.
ONLY

$150

$50
Bonus Gift: SPECIAL EXTRA BONUS MP3
The Fit Quickies Express 50 Track. Fit Quickies™ Express 50 is Fit Quickies™ #1 – #8 edited into one, tight, supershaping 50 minute audio mp3  track. Play straight through for a targeted, body shaping workout. Or break it up for instant invigoraters peppered into a busy day.
Ready for the Fit Quickies Difference?
Download your digital files today.

Get More Juice from the Journey on the Blog