Hello~
I'm Lani Muelrath and I am passionate about connecting you with whole-foods, plant-based eating, simple exercise, and reframing your mindset so you can realize a strong, shapely body and presence that radiates health, happiness, and harmony.
A body in which you have the energy to do all the things you want to do in life.
Vitality.  Resilience. Peace of mind.
Between you and me, there's never been a better time to take control and create the radiant health you've always wanted.
Your reasons are never more compelling.
Our bodies are our vehicles of expression and purpose in the world – and being fit, healthy and energetic have huge bearing on your impact and joy. As plant-based vegan passionista, behavior change specialist, fitness expert and mindfulness meditation teacher, my mission is to help you overcome obstacles – both the practical and those under-the-surface – to living a remarkable, harmonious life. Nothing is more exciting and rewarding to me than helping you realize this success.
Since becoming vegetarian over 40 years ago, and progressing to whole food vegan, along the way I've overcome challenges with food and my weight that have made it possible for me to enjoy a 50 pound weight loss – sustained now for nearly twenty years. These experiences have given me unique insight into the needs and nuances of lifestyle transformation.
Whether you're new to a plant-based diet or have been in fitness for years, you're about to discover strategies and secrets to success for health, realizing your naturally healthy weight, feeling at home in your body. My wish for you is to reclaim the pure joy of eating, dine in alignment with your highest ideals, and live with greater happiness, ease, and peace.
It isn't all that complex.

My Story
I have a long and colorful diet and exercise history. 30 years of constantly battling my weight, being at war with food and with my body, and not having the lasting success I craved, no matter what I did. My weight eventually climbed to a almost 190 pounds.
I'm one of those people with a genetic code preset to gain weight easily. The good news, I found, is that with nutrition and simple exercise, you can alter the expression of those genes.
My 50-Pound Weight Loss:
"For decades, I craved a simple solution, but lasting success was always lost in empty diet and exercise promises.
Sound familiar?"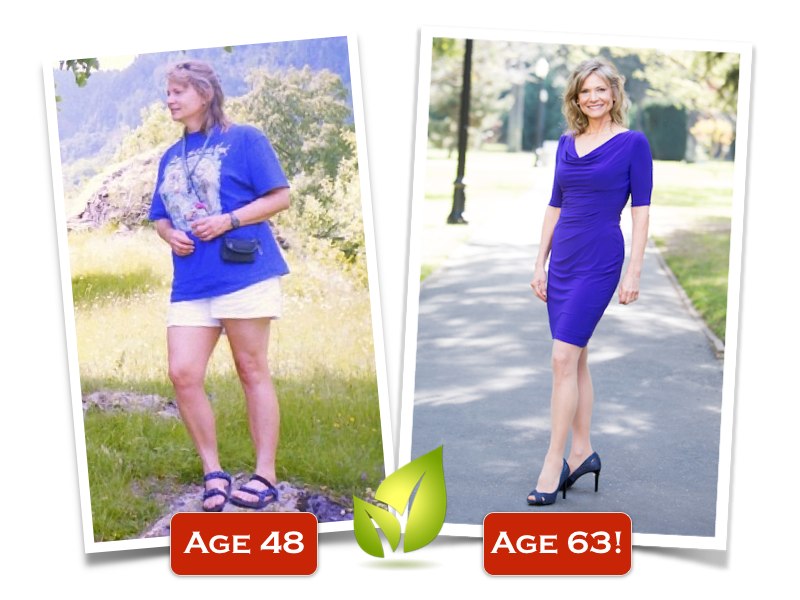 Plant-Based Passionista

and Lifestylist
Welcome to my world!
In order to get what you want with your health and weight, you have to go three for three.
I call them the Three Pillars of Success: the food, the fitness, and the mastery of mindset. Once all three of these are in alignment, you'll have unstoppable success.
"The doctors, scientists, and dietitians give us
the essential raw materials that form
the foundation of plant-based living.
Connecting it all with your reality?  
That's where I come in."
Freely Eating Creates Eating Freedom
I never get tired of the fact that when you get the food right, the fitness is so much simpler, and I can easily keep my shape with simple tools – Fit Quickies, hiking, biking, easy running and walking, and other elements of play that are all part of just being a good animal.
Every day, I am thrilled to walk into my kitchen with the happy knowledge that I have mountains of beautiful, delicious foods to choose from, and which I can eat to my heart's content until I am satisfied. I know now from years of experience that this will keep me trim.
It is a wonderful way to live.
People ask me how they should eat to lose weight so I tell them exactly how I eat.
In The Plant-Based Journey, I describe it in great detail. This gives you a guide that I hope is helpful to you in your own healthy transformation.
"The confident joy of staying slim while eating this way never diminishes."
Bio
Lani Muelrath
Plant-Based, Active, Mindful Living
Award winning teacher, author, and plant-based, active, mindful living expert Lani Muelrath, M.A., CGFI, CPBN, FNS specializes in helping people transform their bodies and their lives with healthy eating, movement, and mindfulness.
Recognized as an authority on living a healthy, happy, sustainable plant-based lifestyle, Lani is the author of The Plant-Based Journey:  A  Step-By-Step Guide for Transitioning to a Healthy Lifestyle and Achieving Your Ideal Weight (BenBella, 2015) or Fit Quickies:  5 Minute Targeted Body-Shaping Workouts (Penguin, 2013).
Featured on ABC TV's The List, CBS TV, Huffington Post, Prevention, and The Saturday Evening Post, Lani has been a Guest Lecturer in Kinesiology at  San Francisco State University and is an Associate Professor in Kinesiology at Butte College. She has a Master's degree and several teaching credentials in Physical Education, and holds multiple fitness certifications including Fitness Instructor from the American Council on Exercise, Yoga, and Pilates-based instruction from the PhysicalMind Institute.
Lani created and starred in her own CBS TV show, "Lani's All-Heart Aerobics." She is presenter and celebrity coach for the 21-Day PCRM Vegan Kickstart and VegRun Programs and is the Fitness Adviser for the Dr. John McDougall Health and Medical Center Discussion Boards.
She has presented at numerous conferences and programs, such as The Physician's Committee for Responsible Medicine and The Complete Health Improvement Project (CHIP).
Certified in Plant-Based Nutrition through Cornell University, Lani holds a Fitness Nutrition Specialist Advanced Credential from the National Academy of Sports Medicine.
Recipient of the Golden Apple Award for Excellence in Instruction, Lani regularly speaks and writes about healthy living, plant-based nutrition, weight loss, and fitness. She overcame her own lifetime struggle with weight over more than 17 years ago when she lost 50 pounds, which she has maintained easily with the tools that she uses to coach others to be successful with in weight loss, body shaping, and health. Lani synergizes smart exercise, optimal nutrition, and mastery of psychology in realizing your body ideal.
Credentials, Certifications, Degrees & Qualifications
Credentials, Certifications, Degrees & Qualifications
Certified: Plant-Based Nutrition, Cornell University
Certified Behavior Change Specialist
Fitness Nutrition Specialist Advanced Credential, National Academy of Sports Medicine
San Francisco State University Kinesiology, Guest Lecturer
Associate Faculty Butte College Kinseiology
Pilates-Based Instruction: Physicalmind Institute
American Council on Exercise Certification (ACE) since 1986
M.A. Physical Education, CSU Chico
B.A. Fine Arts CSU Chico, with emphasis in Dance
Physical Education Teaching Credentials, College and Secondary Level
Certified Online Instructor Training (COIT) certification, completed January 2007
Hatha Yoga Teaching Credential
Multiple Subjects Teaching Credential, CA
Full-Time Faculty, Durham Unified Schools, Durham, CA 1989 – 2007
International Association of Women in Business Coaching
International Dance and Exercise Association
View My Journey
Click photo to view slideshow
Watch Video
Click photo to watch video
Get More Juice for the Journey on the Blog