Lani's Dessert Guided Relaxation
2 – MP3 Audio Downloads + User Guide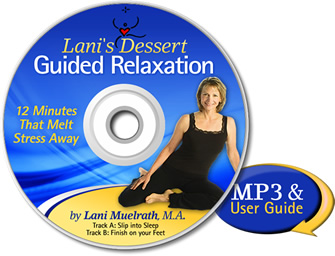 Lani's Dessert is a guided, progressive deep relaxation experience that puts the frosting on a good bout with exercise.
After moving, breathing, flexing, stretching, and spending time building the connection between body and mind, the body is especially receptive to the suggestion of relaxation.
Lani's Dessert also stands alone as a refresher for any point during the day;  those occasions where you just want to have some guided relaxation to help you unwind in the middle of or at the end of a busy day.
With original acoustic guitar music as a backdrop, Lani's soothing voice will dip you quickly and easily into deep relaxation – every time.
Includes Two Tracks:
Track A:  Slip Into Sleep (12 minutes)
Track B:  Finish on Your Feet with a different ending to get you back on your feet reenergized to move forward through your day.
Bonus #1 Audio:  User Guide: What "Lani's Dessert" Guided Relaxation is all about