Just as I experienced post-trauma after the Camp fire that I shared with you in my article title After the Camp fire here, the turbulent times of Covid-19 have inspired a resurgence in these same ways of  supporting family and community: with shared sustenance and goods from my kitchen. 
Here, I share two favorites with you.  Nothing like something from the kitchen, baked with love, and delivered in kindness to family, friends, or neighbors.  Always remember, food is sustenance, nutrition, and yes, comfort!
Crusty Rustic Rosemary Artisan Bread (No Knead)
Hearty, homegrown, feeds-the-soul loaves that infuse the air with the fragrance of rosemary*.
*Rosemary has become a universal symbol of remembrance.  Sometimes brides wear rosemary at their weddings as a symbol of love, happiness and loyalty. I'm lucky enough to have a beautiful hedge of mature, flowering rosemary in the rock garden right outside my kitchen window.
This recipe is my variation of several simple no-knead bread recipes that can be easily found online.
My version elevates the rustic nature of this wonderful bread via the addition of whole grain flour (I fresh grind my own; not required, but fresh flour enhances the fresh homemade quality).
 Ingredients
3 cups warm water
2 tablespoons baker's yeast
1 tablespoon salt
3 ½  cups whole wheat bread flour
½ cup garbanzo flour
2 cups unbleached white flour
3 tablespoons finally chopped fresh rosemary leaves (eliminate stems)
Additional unbleached white flour as needed
Instructions
Add the yeast to the warm water in a large bowl. Let it sit for a few minutes until you see the yeast starting to bubble up on the surface of the water.  Be sure the water is warm enough, but not so hot as to kill the yeast.  About 100 degrees is what you are looking for.
Gradually stir in the flour, starting with the whole wheat flour, then the garbanzo flour, and finally the unbleached white flour. Add the chopped rosemary. Stir all together until all the flour is moistened. At this point the dough will be quite loose, like a very thick soup.  Cover the bowl with a damp kitchen towel, loose enough to give the dough room to breathe.  Let the dough rise at room temperature for at least two or more hours.  I prefer to let the dough sit overnight or longer.  Actually, if you let this sit for several days, stirring down as needed, you can achieve a lovely sourdough effect. You can even store the dough at this point for a week or two in the refrigerator, which also improves the flavor and quality.
Form the Loaves
Add more of the unbleached flour at this point, stirring it into the dough until the dough is thick enough to turn out onto a bread board or work surface. It may take more than you think, so have plenty of flour on hand to do the job.  You know you have enough when the dough forms a semblance of a free standing loaf;  if it just spreads out to flat on the board, you need more flour.
Split the dough into two parts, and form each loaf into an oblong loaf or the shape of your choice.
With a sharp serrated knife, cut diagonal slits in the top of the loaf to assist with the rising process.
Let the loaves rise at room temperature for about forty-five minutes
Bake at 350 to 375 degrees for about forty minutes
I also enjoy baking these loaves on a pizza stone, which requires heating the stone in a 500 degree oven.  Let the loaves rise on parchment paper when you can then slide onto the stone with the loaves.  Baking is quicker,  25 minutes or so.  Monitor closely so that the crust does not burn.
Let cool on a rack until you can slice without crushing!  The rosemary fragrance with gloriously fill your kitchen and home.
Pumpkin Tart with Oat Crust
Inspired by a recipe I encountered at Forks Over Knives, my variation has a little more sweet and a pinch more salt than the original version.  Still oil and sugar free, I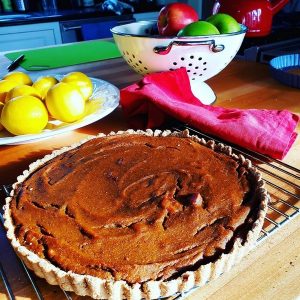 found the original recipe a bit bland and wanted to be sure to have a pie that would delight new neighbors and friends.  The adjustments I made with a little more sweetness and the almond flour are just the ticket and this tart has proved to be a hit even with people who professed not to like pumpkin pie.
Ingredients
1½ cups old fashioned rolled oats
¼ cup almond flour, divided
3 tablespoons almond butter
1 cup unsweetened plant milk, such as almond, soy, cashew, or rice; divided
1 15-oz. can pumpkin
1/2 cup chopped pitted whole dates
2 tablespoons monk fruit sweetener
¼ cup pure maple syrup
2 tablespoons arrowroot powder
2 teaspoons pumpkin pie spice
1 teaspoon pure vanilla extract
1 teaspoon sea salt
Instructions
Crust
Preheat oven to 375°F. In a food processor or high speed blender combine oats, 3 Tbsp. of the almond flour, and the almond butter. Cover and pulse until mixed. With processor running, slowly add 2 to 4 Tbsp. plant milk until mixture starts to cling together. Press with your fingers and hands onto the bottom and up the sides of a 9-inch tart pan with a removable bottom.
Filling
Combine the remaining 1 Tbsp. almond flour with ¼ cup water; let stand 5 minutes. Add to food processor with pumpkin, ¾ cup milk, the dates, maple syrup, monk fruit sweetener, arrowroot, pumpkin pie spice, vanilla, and salt. Cover and process until smooth. Spread filling into crust.
Bake 50 to 55 minutes or until filling is set. Cool on a wire rack 30 minutes. Chill 2 to 8 hours. Remove sides of tart pan. If desired, serve tart with non-dairy whipped cream.
Enjoy what you eat!
Love,