Baby, it's COLD outside!
Proof of my outdoor workouts: shoveling snow and XC skiing out back.
The cold snap continues and it's looking good for another ski run today out the back door – literally.
Our skiis lean against the back door to the garage, ready to go.
By my favorite videographer, dh Greg….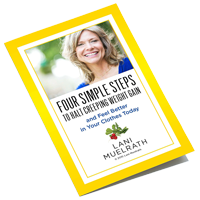 Sign Up Here to Receive My Free Report:
4 Steps to Halt Creeping Weight Gain and
Feel Better in Your Clothes Today
Are you finding it harder and harder to control your weight the more years lived? Or maybe you are simply finding it impossible to budge that last nagging bit of poundage. You're not alone and this report can help!