We've just returned from three weeks of adventure on a Biodiversity Expedition in Indonesia. Here in Greg's latest video release, a peek at our adventure.  Watch as we dive alongside manta rays, sea turtles, and yes, even sea snakes!.
Along the way we enjoyed lots of great whole food vegan eats, too. I snapped several pictures so that I could show you how we were able to eat whole foods vegan on our journey. You'll see some of our meals below below – following the expedition action videos – complete with descriptions.
This ambitious adventure aboard the Mermaid I journeyed us nearly 1,000 nautical miles from West Papua New Guinea to Bali, crossing the Banda Sea and sailing by volcanoes, isolated villages, and too many islands to count.
Together with a dozen other passengers and just as many crew including cooks and the Captain, we enjoyed nearly 50 scuba diving explorations, counting rare species and surveying the underwater landscapes. Along the way we noted changes for the worse in some places, thriving reef in others.
Sonja, a professional videographer on board, just posted her five minute film of extraordinary sightings during our journey. She's got the big fancy lenses and the colors and light she can capture are astonishing! Here it is ifyou'd like to take a look.
What Did We Eat?
Most of the time we were off the grid – which is why it has been a bit since you've heard from me.
Not much bandwidth on the Banda Sea.
I was able to sneak online on occasion to post an errant snapshot, though not much.  Yet just enough to prompt the question, "What are you eating?"
It doesn't take much to prompt me to whip out my phone camera to snap some food pics.  I did just that so I could report back to you.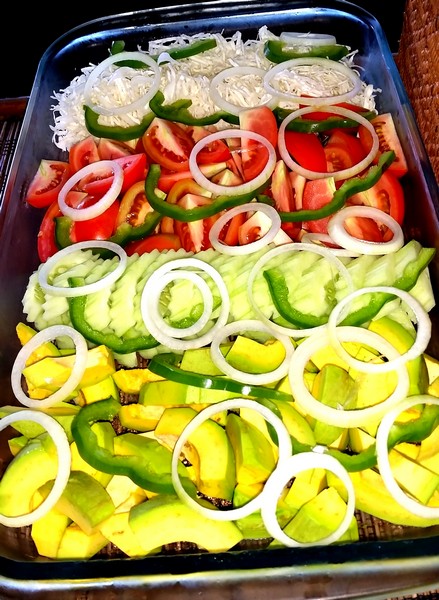 Vegetables!  Never a shortage of these on the boat.  Even two weeks in, each lunch and dinner there was plenty of salad. This was always served plain so that you could dress with vinegar, lime, or other dressing as desired.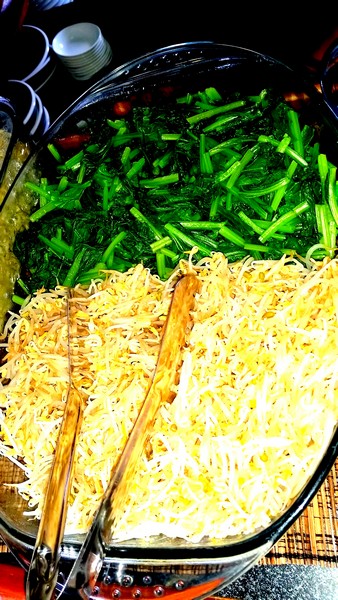 Veggies served steamed, too – such as these greens and mung sprouts.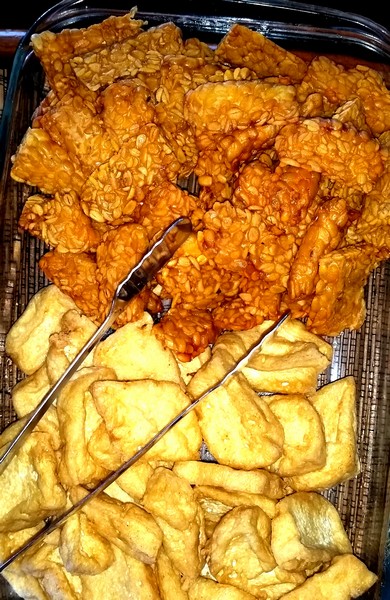 At least once each day, generous amounts of tofu and tempeh were served with us in mind. Tempeh originated in Indonesia, and to be honest I have never had tempeh as good any where else as in Indonesia.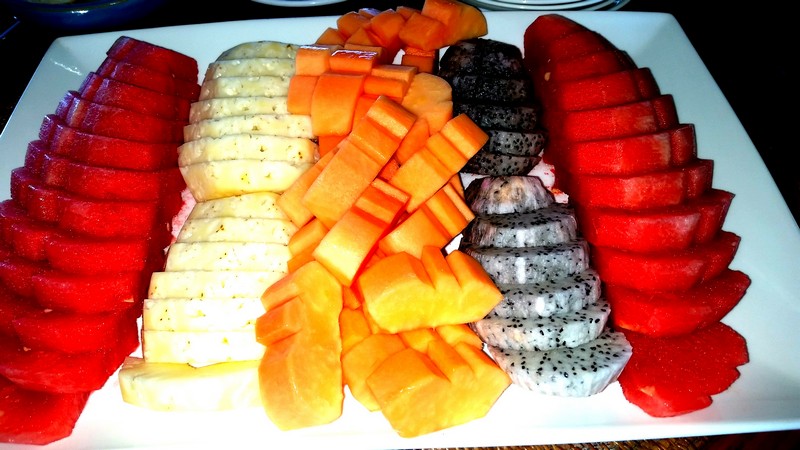 And of course…fruit!
Huge platters – watermelon, papaya, pineapple, green and yellow melons,dragonfruit – at each meal on the boat.
The Spice Islands Close-up
As you can see in the first video above, at one point in the journey we were sailing amid the Spice Islands.  That means the home of nutmeg and mace. We were able to wander through a nutmeg plantation where cinnamon was growing as well.  Though you've already seen this this briefly in the first video above, but I wanted to show you a couple more pictures.
I had no idea that the spice mace came from the nutmeg plant.Here's a still photo of the nutmeg with mace (left below) and a close up of same. Mace is a spice made from the waxy red covering that surrounds nutmeg seeds. The flavor is similar to that of nutmeg, with a hint of pepper and a more subtle.
Below, the stash of nutmeg, mace and cinnamon I brought back to give as gifts to family and friends.  The nutmeg is still in shells, to keep it fresher.
Wish I could make the picture scratch and sniff! And I wish I could get you these kinds of prices – the entire pile you see before you cost me a total of 136,000 rupiah. That's about ten bucks.  Heavens!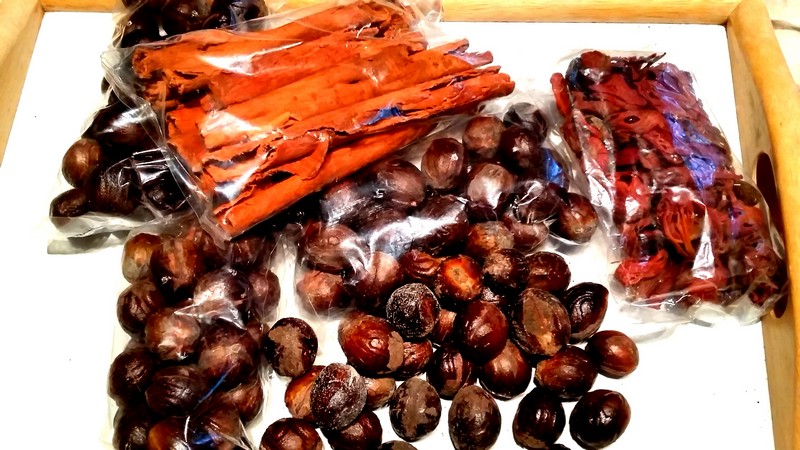 The Challenges
The privilege of making this journey gives me no room to complain.  But I have to be honest with you.  As easy as it was to eat vegan on this trip, as the crew was so kind and eager to please, we were surrounded by people who had no such persuasion.  Greg and I were the only passengers among fifteen who asked for meals without animal products. The only other vegetarian on board was our divemaster (you meet him in the top video. I had brought along a copy of The Plant-Based Journey to share and leave for our divemaster from last year who was also vegetarian, eager to get better at it, and thrilled to get his hands on a copy of my book.
It is baffling to me how people can sit down to meals rich in animal products three times a day. Do these people know absolutely nothing about healthy diet, animal welfare, or the environmental impact of what we eat?
For example, every single morning one of the people who shared our table constructed a mountainous dietary disaster of one piece of white toast, spread with butter, topped with a two egg omelet, then a layer of baked beans (the only saving grace), sausages, and topped with bacon.  Who does that?
We have a lot of work to do. Being vegan is a conscious, responsible, ethical decision to make every reasonable effort to live and enjoy life without harming, enslaving, exploiting, depleting, and contaminating. Yet blaming people for their behavior and pointing it out to them –  from a psychological standpoint is – fruitless and will not lead to anybody changing their mind.  My method has always been grounded in modeling the change I wish to see and being kind in the process.  But it can get tough, especially when it is in my face day after day, meal after meal.  Greg and I are continuing to process the difficulties of that since returning home.
We are fortunate and happy that we were able to eat so well as vegans on this expedition, leave a copy of The Plant-Based Journey behind in excited hands, and hopefully plant a few seeds of awareness in the wake of the Mermaid I.  You never know.