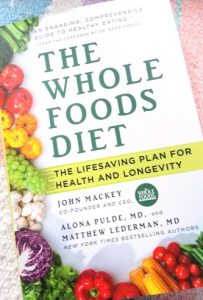 Imagine my delight when the team working on John Mackey's new book The Whole Foods Diet: The Lifesaving Plan for Health and Longevity contacted me, eager for a meeting to discuss including references to The Plant-Based Journey in the book.
Here is the message I received. I include it here because it gives great insight into what The Whole Foods Diet book is all about, and how it adds to the growing collection of books on whole-foods, plant-based nutrition available today.
"Hi Lani,
The book's goal is to make an accessible, science-based case for a whole foods, 90%+ plant-based diet, and to synthesize the amazing body of science and wisdom available to us today on the topic.
We also want to feature many "whole foodie heroes" as we're calling them, people who have been and continue to be instrumental in this movement. We want to emphasize how much they all have in common, rather than the small differences that sometimes get over-emphasized. Our goal is to be inclusive and flexible, not dogmatic…and to use the wonderful opportunity we have with Whole Foods Market backing this book to get the message out to a very wide audience.
Anyway, that's the short version! I can tell you more when we meet. Right now, I'm researching the section of the book that will focus on Transitions,so it would be wonderful to have your voice in that section."  ~ Ellen Daly
Evidently John Mackey himself – CEO of Whole Food Markets – had read The Plant-Based Journey and directed the team to reach out to me in researching and writing their book. This was very exciting to hear – for as you probably well know, The Plant-Based Journey has been recognized for being inclusive, undaunting, and user-friendly. Yay!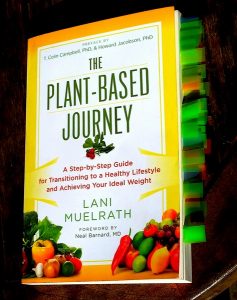 Imagine also my delight when Ellen and I met up a natural foods bistro for the interview – and there on the table was her copy of Journey, all book marked and sticky-tabbed.  I had to take a picture to share with you, of course! There's Ellen's copy, photo left.
The Whole Foods Diet Book Release
The Whole Foods Diet Book was just released this week – and my copy arrived a couple of days ago.  And that means I've been able to read it and report back to you!
It is a splendid fulfillment of the vision for the book that Ellen first described to me. You'll find in-depth descriptions and analysis of what constitutes whole foods, how to recognize them, procuring them, and how to get started on preparing them.
Several sections underscore what you'll find in Journey as well: for example the processed continuum, and why whole plant foods are the best match for our gut receptors when it comes to being full in a way that doesn't contribute to a weight problem.
Whole  Foodie Heroes
Scattered throughout are vignettes titled "whole foodie heroes" – you'll see many of your favorite leaders on the collective whole foods plant based journey profiled – T. Colin Campbell, Neal Barnard, Dean Ornish, John and Mary McDougall, Brenda Davis…Even Pete Singer and Dan Buettner of The Blue Zones fame are highlighted (including several pages devoted to an overview of the blue zones themselves), and yours truly made the list as well.
And of course, one of my favorite pages in the book is page 246 (see right).  Forgive me for having a Plant-Based Journey moment!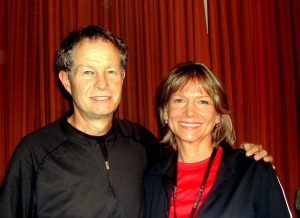 Anecdotally, I met John Mackey several years ago at the 2012 McDougall Advanced Nutrition Study weekend – when the photo at right was taken.  That was the weekend of the great Fuhrman-McDougall debate, which Mackey skillfully moderated. It was the same weekend that Mackey met Alona Pulde and Matt Lederman of Forks Over Knives fame, his co-authors of The Whole Foods Diet. He talks about this in the book, describing his initial meeting with Matt and Alona, and how it quickly grew to a professional, plant-based relationship.
Reading Mackey's personal journey from Standard American Diet to now healthy vegan, which he details in the book, is engaging and interesting.  He discusses how his personal practices and philosophy interface with and shape his business policies.
Overall The Whole Foods Diet Book is a Spectacular New Resource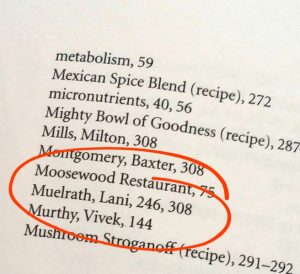 Overall, this a wonderfully informative whole foods diet primer with lots of bells and whistles – many great recipes, tips for changing to whole foods, disease preventative properties of whole foods nutrition, and several personal transition success stories.
In the back, you'll also find a 28 Day Eat Real Food Plan, complete with menus and recipes.
And P.S. It's the first 'indexing' I know of yours truly – right there between Moosewood Restaurant and Murthy Vivek, Surgeon General of the United States!
A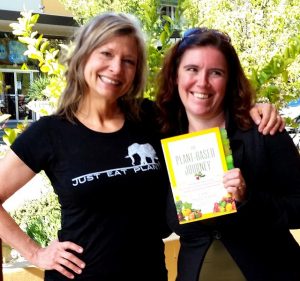 nd P.P.S. Another highlight of this whole (!!) experience has been the opportunity to meet up with Ellen Daly (photo left, along with her marked-up copy of Journey) who along with husband Carter did much of the heavy lifting for The Whole Foods Diet.  Sit two authors down together and, well, time flies.
Congratulations Ellen and The Whole Foods Diet team – John Mackey, Alona Pulde and Matt Lederman (you'll recognize these two M.D.s from Forks Over Knives – the movie and the books), and Carter Phipps – on your fine work!