Solid, simple tactics with real food and movement of your body – and your mind – to put you in the health & weight winner's circle come January.  Part 4 of 10: "What you have is what you'll eat"

What do you have going on in the fridge – right now?
What do you have going on in the pantry  – at this minute?
Do you have lots of fresh fruits and vegetables?  And good whole grains?  And beans?  And all the foods that are going to keep you well sated, without taking away from your fitness and health goals?
It's time for a food availability check
You can only stay well fed (see Tip #2 "How eating keeps you thin, aka stay well fed") by being prepared with having good food available.  It's critical that you check for that availability at home, at work, and any points in between.
Inventory the foods you have ready in each environment:
  foods I can eat raw (vegetables and fruits) – bags of salad greens; carrots, celery, jicama, peppers.  If you need an inspiration, check out Samantha's solution in Stealth health: How to sneak veggies in for health & weight loss.
  foods you can prepare fast (cooked brown rice, cold baked potatoes and sweet potatoes, cans of beans and soups, frozen veggies & fruits)
  all you need for your daily good breakfast:  rolled or steel-cut oats, brown rice cream, you favorite standards should always be in stock
If you don't have the right foods at hand, how can you eat them?
If you don't have a robust inventory of any of the above items, fix it today.
What you have is what you'll eat.
P.S.  For veggie inspiration and a colorful, phytonutrient treats list that won't quit, go to The Five Food Colors.
Just joining us? To catch up with the holiday food & fitness survival guide:
Part 1:  "Be choosy"
Part 2:  "How eating keeps you thin, aka stay well fed
Part 3:  "Eat BEFORE you arrive"
Want to be notified right away when the next tip in the series is posted? You can, by subscribing to be sent Email Updates or RSS notifications.
Thanks so much for coming by.  Please share this post if you like it, and if you're on facebook, please join me now on my facebook page here: http://www.facebook.com/lanimuelrath.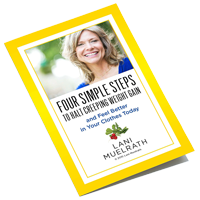 Sign Up Here to Receive My Free Report:
4 Steps to Halt Creeping Weight Gain and
Feel Better in Your Clothes Today
Are you finding it harder and harder to control your weight the more years lived? Or maybe you are simply finding it impossible to budge that last nagging bit of poundage. You're not alone and this report can help!