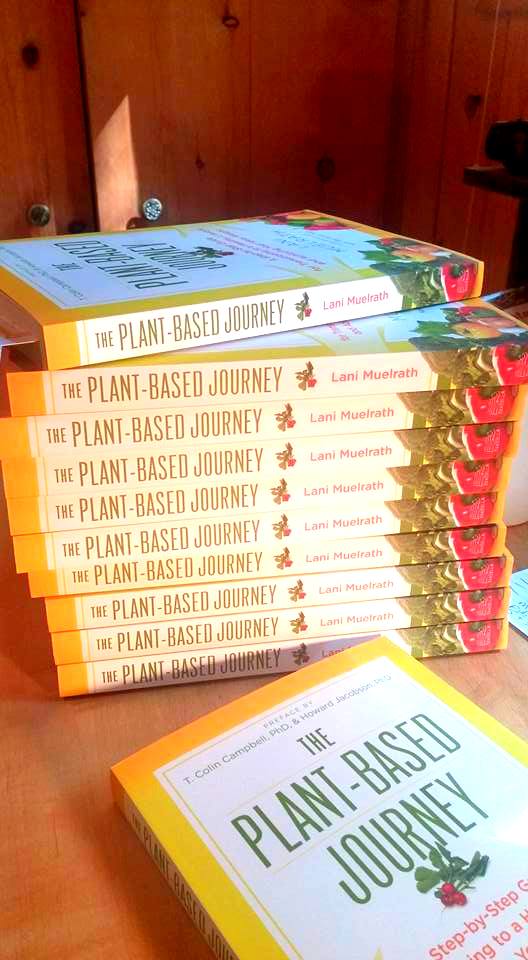 The past week has been a dizzying blend of radio appearances, interviews, and preparing for an appearance this week on a large CBS-TV station morning show later this week – Good Day Sacramento. More about that soon.
I've also been busy signing copies of The Plant-Based Journey.  The stack of ten books pictured above was specifically destined for the library at MUSE School.  MUSE is featured in Journey (pg. 16 – 17) as the brainchild of Suzy Amis Cameron and her sister Rebecca Cameron as a progressive learning environment focused in part on sustainability – their school dining area has been progressing to 100% plant-based! This is in no small part due to the fact that Suzy,  her husband, film director James Cameron and their family have been eating plant-based for a several years due to the deep impact our food choices have on the environment.  I very excited about Journey being a resource for staff, parents, and students at MUSE School!
Plant Yourself Podcast
Though my calendar is a mess (I prefer working on the old-fashioned kind, paper with big box windows, full of writing that only I can seem to decode – and sometimes not even) and it's been harder to squeeze things in, I cleared the deck for the opportunity to meet up with my friend and esteemed colleague Howard Jacobson.
(In a hurry?  You can jump right to the podcast here.)
Howard, you know, co-authored the Preface to Journey with T. Colin Campbell. I feel forever in their debt, as the Preface stands alone as a great piece of writing.  I tell them every time I read the Preface to Journey I want to go out and buy a copy – even though I already have one!
So when Howard suggested we meet for a podcast to publish in celebration of the official release of Journey on September 15, why of course I said yes.
And he even scrambled to get this formatted and up on his illustrious Plant Yourself Podcast page in time to beat the release date.
PYP 119: Lani Muelrath on the Right Mindsets for the Plant-Based Journey
In usual impeccable style, Howard pulled out some key points to give you a peek into the podcast before you even start listening:
"Her latest book, The Plant-Based Journey, to which T. Colin Campbell and I have the honor of contributing a foreword, comes out on September 15, which is tomorrow as I write this. She's offering a bunch of bonuses as incentives to pre-order, so if you're an early listener to this podcast, you still have an opportunity to make your online purchase and grab some goodies.

"In our conversation, we cover:
why Lani wrote The Plant-Based Journey

the biggest challenges and obstacles to effective lifestyle change

the hidden dangers of exciting, inspiring immersion events

the value of meal templates rather than recipes

lifestyle lessons from Everest

the difference between food addictions and addictive foods

dietary disinhibition and learning to juggle

the unicycle principle of learning

lifestyle insights from behavioral economics: status quo bias and loss aversion

Lani's subtle battle with dark chocolate

and much more…
Pop on over to the podcast page HERE – you can listed right on the page, or do as I do – download to your computer, upload to ipod or audio, and listen on the go.
See you there!