This time on Plant-Based Journey TV I brought Dr. Michael Greger in with his new book How Not to Die – now five weeks on the NYT Best Seller list! Click on the video below to watch this four minute segment, in which we feature Greger's "Daily Dozen" featured in recipes direct from The Plant-Based Journey!
Dr. Greger's in the House!
As soon as I discovered that my friend and partner in plant-based everything Dr, Michael Greger was going to be in Sacramento on his book tour for How Not to Die, I sent him a quick note asking him if he might want to sneak in an appearance on a Plant-Based Journey TV segment.
His immediate "Yes!" prompted me to send a quick message to the program director at Good Day Sacramento pitching the idea.  I got an immediate thumbs up response, and we were off!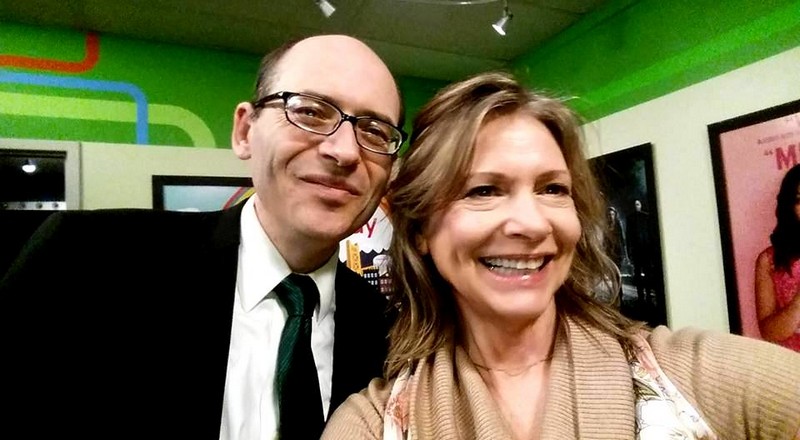 It all started with early morning green-room antics (above), and then off to the set that I had prepared earlier – arriving at the studio at 6:45 a.m. to get all the veggies and books perched in full plant-based beauty for the camera.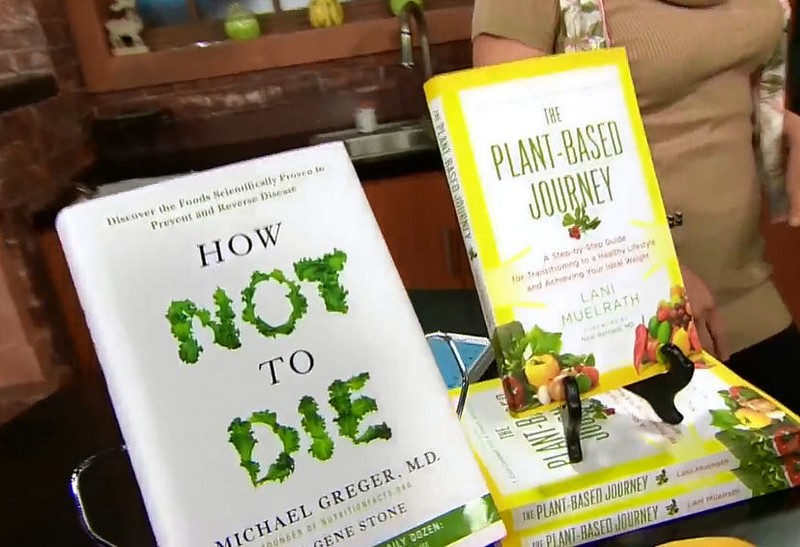 As Dr. Greger states in the opening, "The vast majority of premature death and disability is preventable with a plant-based diet and other lifestyle behaviors.
As Greger's Daily Dozen
Enter The Daily Dozen! – Greger says that there are particular plants that we should be sure to get into our daily diet.
For this segment, I pulled together recipes from The Plant-Based Journey that are a match for Greger's Daily Dozen as featured in How Not to Die.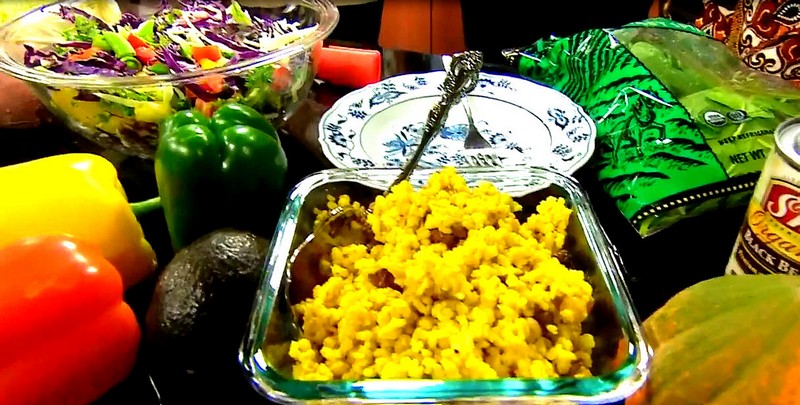 Daily beans? Try Golden Turmeric Rice (PBJ pg. 95), which brings together garbanzo beans, whole grain brown rice, and the health-protective spice turmeric.
Turmeric, Greger says, "There are now 50 clinical trials that show that turmeric – a spice commonly used in curry – has been useful in treating a number of brain diseases, liver diseases, even a number of cancers – and can make colo-rectal cancer disappear…reduce inflammation…with just 1/4 teaspoon of turmeric every day!"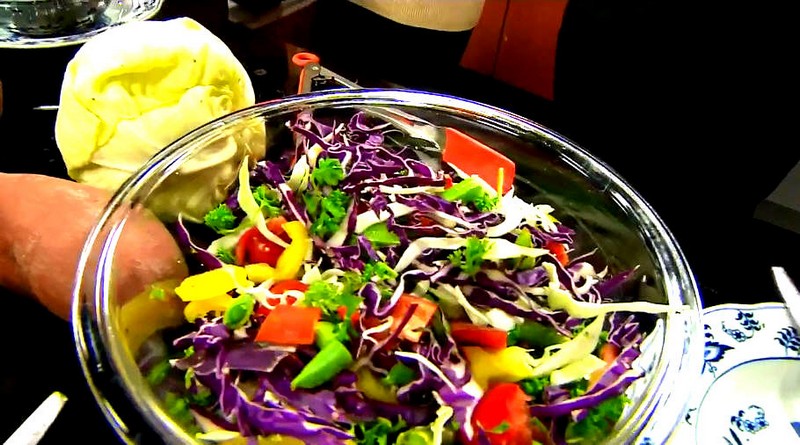 What about those cruciferous veggies?  Important to get into the daily diet are these friend lovelies!  Cabbage, kale, cauliflower – and one of the easiest ways is with purple cabbage.
And you'll find them all over the Color and Crunch Salad Template (PBJ page 105). Try a Greger tip – keep a head of purple cabbage on hand in the fridge to shred as garnish for any meal!  As you can see from photo below, I was eager to get an early morning start on my Daily Dozen.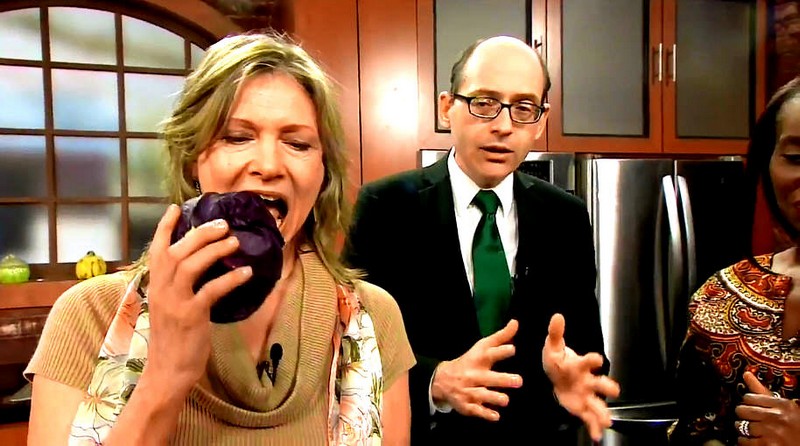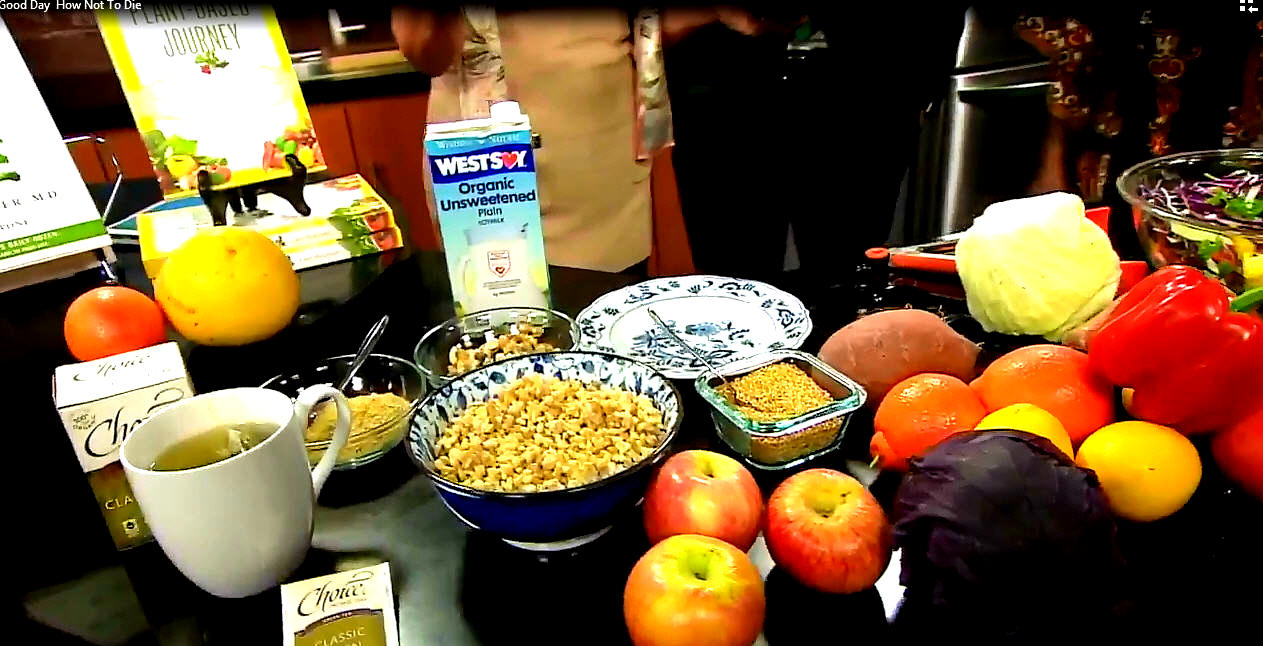 Berries!  Every day!
"Researchers found that a single serving of blueberries a week and two servings of strawberries can slow brain aging by two-and-a-half years, slowing cognitive decline", says Greger.
I put berries on my breakfast grains, such as whole oats and farro as described in the Whole Grain Breakfast Template (PBJ page 96, pictured above) – along with flax seeds, another of the daily dozen – of course!
Daily Dozen and Nutrition Facts.org
You can easiily download an app for Greger's Daily Dozen from his illustrious, industrious (try multiple free plant-based nutrition articles each week) at Dr. Greger's site Nutrition Facts.org.
Thank you Michael Greger and Good Day Sacramento!
A big thanks to Dr. Greger for joining me in this early morning show – and to Courtney Dempsey and the entire team at Good Day Sacramento, who have been so instrumental in getting these titles and plant-based living into more hearts and hands.
The time flew by and we could have said so much more!  We did our best to hit high points and I hope you find this useful to share with friends and family to bring inspire more plantification everywhere! Would love to hear your thoughts below.