The elephant orphans of Kenya again called to us, and last August we once more journeyed to Kenya to work with them, and to be with the magnificent wildlife that lives in this part of Africa.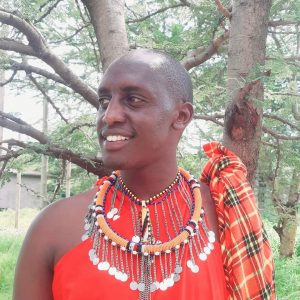 This time, another extraordinary experience was ours in meeting Jack Lekishon, a native Maasai who has become a shining activist for some deeply important projects. He is spreading veganism, advocating for protection of wildlife, and working hard for the restoration of natural habitat. He is also championing the education and health of young people, particularly the girls who have culturally suffered on many fronts.
Jack first caught my attention on social media with his vegan activism. The typical Maasai diet is comprised primarily of blood, milk, meat, and honey. How does one morph from that into plant-based, let alone vegan? And how does one make cultural inroads for it to happen?  For example, a few years ago when speaking with another Maasai about diet, he told me that it was against the cultural/religious principles of the Maasai to cultivate the soil as it would take it out of commission for grazing cattle, their primary source of food.  In addition to that, possession of livestock is traditionally a indicator of one's wealth and status in Maasai society.  So there's another obstacle, it would seem, to moving people from animal agriculture to plant-based nutrition.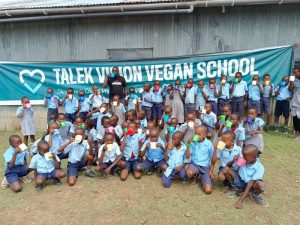 Jack's work has been so extensive that I knew I had to tell you all about it.  For starters, he is working with Million Dollar Vegan to bring one million vegan meals to children in the schools of Kenya.  Some of that work you  see in the images here.
I felt that the best way to introduce Jack to you would be to ask him to respond to interview questions.  He graciously said yes. Here are my questions and his responses.
Interview with Jack Lekishon, Vegan Maasai Warrior
LANI MUELRATH: What is your family background, work and education history?
JACK LEKISHON:  I'm a native Maasai, born and raised in Maasai Mara, Narok County, Kenya. My passion is preserving the natural environment of the Maasai Mara and teaching young people to be the future stewards of it.
I studied conservation and safari guiding at the Wildlife Clubs of Kenya School in Nairobi. Today, I'm volunteering as a community and conservation activist and volunteer organizer for the Conservation Clubs at Maasai Mara schools and Kenya schools.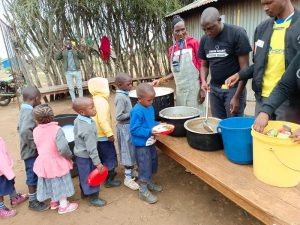 I do conservation education to young people for several reasons. One, to spread knowledge and interest about wildlife and environmental conservation among the youth of Kenya in particular and East Africa. Second, to increase awareness of the great economic, cultural and aesthetic value of natural resources. Also, to develop a better understanding of the need to conserve natural resources for the benefit of the nation, its people and future generations.I grew up in a village called Olare Orok, meaning "Black Oak." My mother has one daughter currently (at Maasai Girls Secondary school grade 11 and four of us being (boys in the house). We lived, grew and survived with brown porridge of sorghum and maize.
Unfortunately, the Maasai own hundreds and thousands of cows. But our family had only six cows and three sheep and my mother had to sell all of them to pay for my secondary education. We remained with nothing.
My mother worked hard to piece together a living income through a variety of enterprises, including brewing a local beverage.  But eventually there was not enough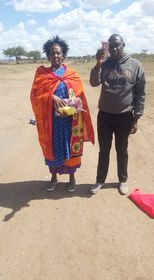 income. This forced my mother to move to a Maasai village when as there was nothing to eat at all at home.  Here, families live in house-like structures called "Manyatta". These are low dwellings made of mud, cow dung and wood, with a single entrance and minimal side windows. The clusters of this manyatta huts form a village which is also known as "Bomas." In addition, several Bomas can also be joined together to make a larger village. Here, my mother began to sell ornaments as a new source of income for us. This was the source funding for my secondary education too.
When I finished my secondary education, my lovely, hard-working mother had no hope for the next step for me to go to college. But, I kept the faith. I was able to finish my education with an outstanding tuition balance of 60,000 Kenya shillings, which is approximately USD $600. Unfortunately, I could not collect my certificate for one and a half years due to unpaid tuition balance. First, I worked at Solar company for one year and started saving to pay back the outstanding balance so as to collect my certificates.
Then, I shifted from Solar company to Basecamp Explorer Maasai Mara and worked as a Curio Shop Attendant where I could market and sale local women ornaments to Guests at the Camp. Here, I worked for one and half years. After this period, I was able to save money for my secondary certificates clearance and collection. Then, I met a kind friend from US who do donated $400 for my education. I used the money to pay the outstanding tuition balance at school and access my certificates. This means I took approximately 3 years to do savings for my secondary education certificates.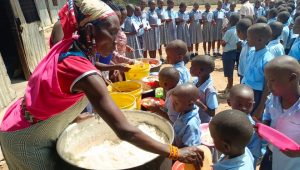 In other words, during those three years, I took a position to help my mother as our family breadwinner as well as to earn what I needed for certificates collection. At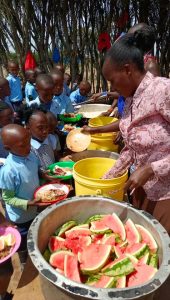 the same time I was working to pay tuition fee for my only sister Evelyn and the Mom's son Saitoti.
Later, another kind friend from Switzerland came across my path and realized I have a great desire for education. She promised to pay my college education for two years only and I completed and graduated as a Diploma Holder in Wildlife, Tourism Management and Conservation.
This is where my dream of wildlife and environmental conservation came true. In the beginning, my dream was to study nursing. But that was not successful due to lack of financial support for my education. I preferred Wildlife College because of low tuition payments. To date I have not been able to join University for my Degree course because of lack of tuition fee and at the same I'm now a breadwinner in our family and also supports my sister's education and the other three young brothers. In the future, I pray and wish to access opportunities to join University and study Bachelor Degree in Wildlife and Environmental conservation in the University of Eldoret in Kenya.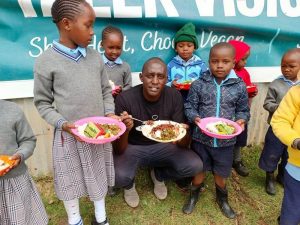 After this, I graduated and came back to Basecamp Maasai Mara and fully volunteered as a Naturalist and Conservation Safari Guide at Naboisho Conservancy. Until COVID19 pandemic hit the world. This forced many camp staff to go home and many could not return to date including myself. When the pandemic crisis hit the world, I started COVID19 Pandemic Food Relief Campaign and have fed thousands of families to date.
LANI MUELRATH: Over the course of several trips to Kenya, I have had the chance to meet and get to know many Masai. When I ask them about what their families eat, they say the diet is based on milk, blood, and meat. As a herding culture, they have told me vegetables and fruits are not a big part of their diet. Can vegetables grow in the soil of Masai Mara?
JACK LEKISHON: The Maasai Mara is characterized by sandy soils. It can support and supply nutrients for the growing of kales such as sukumawiki and spinach, Tomatoes, potatoes and Onion.
LANI MUELRATH: What was your diet growing up? Please describe the details of learning about plant-based nutrition and how you became vegan.
JACK LEKISHON: The Maasai heavily depend on animal products nutrition. The traditional Maasai diet consists of six basic foods; Milk, Meat, Fat and Blood. Fresh milk are drunk in a calabash and is sometimes mixed with fresh cattle blood. Hence, when I grew up, the source of my diet was milk, fat, blood and meat.
Throughout history, the Maasai have relied solely on herding for survival, viewing their lifestyle as both a sign and only source of wealth. However, increasingly frequent and severe drought in the area they occupy across Southern Kenya and Tanzania and the lack of land has meant devastating losses in cattle herds, leading to the need to initiate programs to introduce the Maasai to a new survival strategy crop production. Small-scale irrigation technologies works for the Maasai who have no tradition of crop production but recognize that their survival depends on being able to make the most efficient use possible of their scarce water resources in the Mara.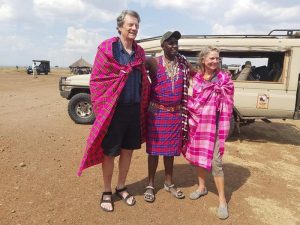 Going vegan is becoming increasingly popular, especially with those that are interested in improving their health, enhancing their athletic performance, or fighting climate change. Veganism is a lifestyle that excludes all animal products, while many vegans choose to avoid animal products for ethical, health, or environmental reasons. Switching to a vegan diet is also one of the best ways in which we can collectively help to prevent future pandemics, like COVID19.
Just in the last hundred years, flu pandemics have spread across the world killing millions of people, and devastating the lives and livelihoods. Eating a wholesome food plant based diet is also proven to reduce our risk of suffering from a chronic illness, such as stroke, diabetes and even cancers.
I teach my people that animal agriculture is a primary cause of climate change, and the world's leading driver of deforestation and habitat loss. Many breed, farm, capture and slaughter animals on an unimaginable scale. Millions and millions of animals across the globe and sentient beings are crammed inside filthy factories, farm sheds and cages. Sick and weak, these animals live and die in squalid conditions that are the perfect breeding ground for disease.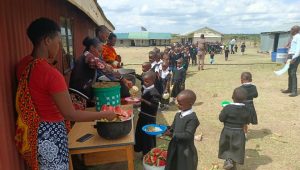 I tell them that our disrespectful treatment of animals and nature puts our lives and lives of our loved ones at great risk. For us to prevent another pandemic, we must change our relationship with animals, and that begins by taking them off our plate. These reasons inspired me to go vegan for animals and for our planet. It is my decision to go vegan and stay vegan. I teach and demonstrate that going vegan is easy, delicious and nutritious.
LANI MUELRATH:  What has the community response to your service to veganism been?  Have you experienced any resistance or push back? What positive responses have you received?
JACK LEKISHON: It is not easy to convince a Maasai to go vegan. They believe they cannot survive without eating meat, blood and milk. In the beginning, after delivering food with the Vegan Food Aid to our indigenous Maasai community, we didn't get feedback for a week or so. After a month, they realized it's yummy best. Through veganism awareness we educated our community about preventing future pandemics by going vegan as a first priority. Because COVID19 pandemic has hit the globe very hard, now they accept our veganism teachings.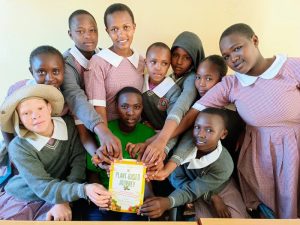 The most positive feedback I received is that nutritious vegan diets especially for children not only helps them grow up to be strong and healthy, but they also lower the risk of developing obesity, high cholesterol, hypertension, heart disease, and type 2 diabetes. Plant based meals for children can also help establish a foundation for healthy eating habits and nutritional knowledge that a child can apply throughout life. In addition, many adults have reported back that it promotes weight loss and helps lower the level of cholesterol levels and blood pressure. Vegan children are observed as being strong and healthy.
LANI MUELRATH: Please tell more about the vegan meals distribution projects you have created and been involved in. Where does the food come from? How do you distribute?
JACK LEKISHON: Children are a gift to the world. I am passionate about bringing out their talents and nurturing their dreams by ensuring no child learn while hungry today, tomorrow and days to come. I want to ensure learning continuity during these crises caused by the horrific pandemic and the additional drought crisis that has brought the Maasai Mara to a standstill.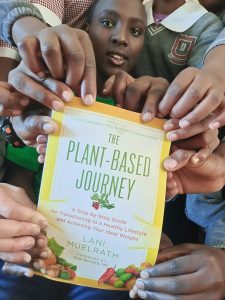 Food insecurity and loss of livelihood is of utmost concern here during this time. I leveraged the power of the Maasai Mara vast network to ensure that vital supplies and information are cascaded down to the community. I distributed care packages to volunteers who in turn distributed them to vulnerable families and school children as well. The rapid action and support measures initiated across the network seem to have paid off.
Despite the dark cloud cast by the pandemic, the volunteer team and I were able to deepen our engagements with volunteer caregivers and NGOs like Million Dollar Vegan to increase awareness of the need to Veganism to prevent the future pandemics and for our planet earth. The pandemic has shed a light on the crucial role that the early childhood development sector, and in particular, the role of the young people, plays in improving learning outcomes for vulnerable children. When COVID-19 struck, it exacerbated the economic and social divide that exists in Maasai Mara, with vulnerable families bearing the brunt of the scourge. Learning has since resumed, yet most locals in low-resourced communities like the Maasai Mara community have either closed shops or are struggling to stay open. We are proof that if the right systems for recovery and resilience are in place, we can overcome these challenges and learning continuity stays in progress. There is much work to be done for young learners from vulnerable communities in Maasai Mara. With the efforts of organizations such as Million Dollar Vegan, investors and individuals support, a better future for children and families seems possible.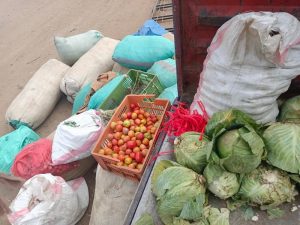 All the food relief we are donating to our local indigenous communities and the school children feeding programs are from the local markets and shops. We are grateful and glad to promote local businesses as well through these relief feeding programs. Supporting local businesses is good for the environment because they often have a smaller carbon footprint.
As young people we have more at stake in the fight against climate change and helping fight our community challenges than anyone else. We are here to lead the fight and do that which brings solutions and change. I'm very thankful for those who are impressed by our courage, creativity, and persistence. Give us hope. Channel that word of encouragement, the spirit of hope and give/support/donate for our humanitarian aid and all that we do for our planet Earth. Let's get to work together to make a change. All our works are GoFundMe Projects.
As for the children feeding programs, we have donated and distributed approximately 45,000 vegan meals to Talek Vegan Boarding school, Mara Valley Vegan school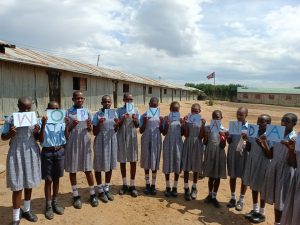 and Talek Vision Vegan School in the Maasai Mara, Kenya. This also gives us a voice to create awareness on the importance of veganism so as to preserve, conserve and protect the planet Earth. We deliver on a monthly basis and  share updates during hot vegan meals, while children enjoy porridge in the morning hours and meals during lunch time. We donate and deliver strictly plant-based food and awareness of the need to go Vegan. Teachers and youth volunteers help deliver and distribute food. For the community part on delivery and distribution, together with the Maasai elders, we have put a bold emergency plan to ensuring that there's equal distribution and delivery of vegan food relief as well as ensuring that the order of first priority of those in need is adhered to. The village elders help a lot in this case. In some cases, we distribute and deliver foods to families who are staying at home. In big villages with many people, we deliver and distribute to families in the open fields.
We also donate Uji Mix (porridge) and Vitamin B12 fortified plant milk to provide a healthy vegan breakfast and at mid-morning hours meals for all the kids.
LANI MUELRATH:  You have also been devoted to advancing education of young people, especially girls. Can you please give more details about these projects?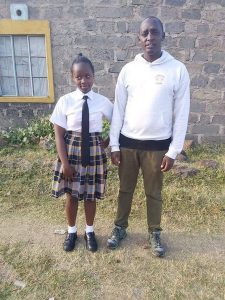 Education for girls can transform communities, countries and our world. It is an investment in economic growth, a healthier workforce, lasting peace and the future of, our planet. That's why I along with other advocates at the local, national and international levels advocate for resources and policy changes that improve access to education for our girls especially among our indigenous Maasai community. Girls have the fundamental right to attain education, so it is our responsibility to adopt strategies to provide them this right. So as to eliminate all forms of discrimination against the girl child and to increase the value of the girl child, and concurrently, to strengthen the girl child's self-image, self-esteem and status. We rescue girls out of early marriage and against FGM (Female Genital Mutilation) for girls; advocate for the rights and appeal for help to support them back to school.
Especially, during and without COVID-19 pandemic crisis, girls faced serious challenges including early pregnancies that leading to early marriages, FGM and other girls rights abuse as far as early school drop out. I have aggressively stood to protect their rights especially rights to education, against FGM and any other abuse that our girls faces in the Maasai Mara. Many of our Maasai girls drop out of school due to early pregnancies, peer pressure, lack of parental care as much as lack of school fee. During COVID-19 pandemic crisis/season many are jobless and many parents can't sent back their children to school during the reopening! Education for girl child saves and improves their lives and ultimately leading to more equitable development, stronger families, better services, and better child health.
SANITARY TOWELS/PADS: MONTHLY BASIS DRIVE
During COVID-19 pandemic crisis, our girls are finding it harder to access menstrual hygiene products and facing increased discrimination. With lockdown, closed borders and shuttered businesses, the pandemic is having far reaching consequences for many people. Economic disruptions have led to girls and women losing to access to hygiene products including many do not even afford to purchase. During these unprecedented times of pandemic crisis, the poverty rate is high and it makes it harder for girls to access menstrual hygiene supplies and the care they deserve. We should always ensure these items be declared essential and remain available for our girls. These essential hygiene products are a priority for the health, dignity and welfare of our girls. Living in poverty already presents barriers to obtaining menstrual hygiene supplies and related health services. With stores and public transport closing, rising costs and increasing economic uncertainty, they are now facing even bigger hurdles. We even have reports that many women are forced to prioritize food and water over personal care items. During the pandemic, the vulnerability of people living in extreme poverty and crisis settings is increasing, while access to sexual and reproductive health services and information is decreasing. Our Maasai indigenous communities are already facing shortages of soap, cleaning materials and maintenance staff and we're very much grateful for any help for monthly basis of sanitary towels Drive. The great initiative.
FIGHT AGAINST FGM (FEMALE GENITAL MUTILATION)
I advocate against FGM among our teenage girls. FGM has no health benefits, and it harms girls and women in many ways. The practice involves removing and injuring healthy and normal female genital tissue, interfering with the natural functions of girls' and women's bodies. It can lead to immediate health risks, as well as a variety of long-term complications affecting women's physical, mental and sexual health and well-being throughout the life-course.
All forms of FGM are associated with increased health risk in the short- and long-term. FGM is a harmful practice and is unacceptable from a human rights as well as a public health perspective, regardless of who performs it.
Here are the reasons against it in our Maasai community:
Short-term health risks of FGM
Severe pain. Cutting the nerve ends and sensitive genital tissue causes extreme pain. The healing period is also painful.
Excessive bleeding (hemorrhage).
Can result if the clitoral artery or other blood vessel is cut.
Shock.
Can be caused by pain, infection and/or hemorrhage.
Genital tissue swelling due to inflammatory response or local infection.
Infections. May spread after the use of contaminated instruments (e.g. use of same instruments in multiple genital mutilation operations), and during the healing period.
Urination problems. These may include urinary retention and pain passing urine. This may be due to tissue swelling, pain or injury to the urethra.
Impaired wound healing. Can lead to pain, infections and abnormal scarring.
Death. Death can result from infections, including tetanus, as well as hemorrhage that can lead to shock.
Mental health problems.The pain, shock and the use of physical force during the event, as well as a sense of betrayal when family members condone and/or organize the practice, are reasons why many women describe FGM as a traumatic event.
This is why I'm against FGM for our teenage girls; as part of Maasai Girl's Education Empowerment programs is concerned.
LANI MUELRATH:  You are acting as educator and agent for change in an astonishing range of important advocacy.  You seem to have never-ending energy and passion for these causes.  I have endless admiration and respect for what you are doing Jack.  It makes me happy to know that The Plant-Based Journey has been of assistance in your advocacy and work. Can you tell me more about how you have been able to use The Plant-Based Journey for advancing the vegan and feeding people projects?
JACK LEKISHON:  To educate, derive ideas and inspirations, create awareness of the need to go to veganism for our planet Earth. To educate the unhealthy reasons why consumption of animal products is clearly linked to unhealthy lifestyle including related diseases and untimely death to many around the globe.
This book The Plant-Based Journey has clearly educated that the industrial scale animal agriculture is the single biggest contributor to the most imminent threats to our environment and shows that our heavy-meat western diet promotes cruelty to many life forms including economically and politically less fortunate humans.
Additional, The Plant-Based Journey is the source of step by step guidelines, offering valuable opportunities and advice a long the way to and into veganism lifestyle. And this guidelines takes one to the tip ladder of best places to healthy living lifestyle.
It has been a source of inspiration and led to a passion for health care, the need for protecting the environment and clearly be the source of inspiration of the need to go vegan for the benefit of all. It has greatly awakened the young Maasai children and school kids to go through a plant based diet and generally generated ideas for children to learn, grow and focused into healthy plant based eating habits which is of great lifestyle.
It has been an educational source to pure joy of eating whole food for good health and clearly indicated the foods that leads to increase the diseases.
LANI MUELRATH: Thinking back, what was your initial inspiration to go vegan. You have given many reasons, but most people have a moment of inspiration or insight that shifts their experience to what is on their plate and all the reasons proliferate from there.
JACK LEKISHON: To eat meat-free and to living a healthy lifestyle.To reduce and prevent future pandemics and other health related diseases. The concern for the sake of environment protection, conservation, and nurturing. To be kind enough to animals and say 'No' to their suffering through slaughtering and causing unnecessary pain.
To eat meat-free to foods to healthy living lifestyle especially to reducing/prevent future pandemics and other health related diseases. The concerned for the sake of environment protection, conservation and nurturing. To be kind enough to animals and say 'No' to their suffering through slaughtering and cause unnecessary pain.
LANI MUELRATH: Thank you Jack!
I shared Jack's story and work with the publisher of my book The Plant-Based Journey, BenBella Books. I had brought a copy of The Plant-Based Journey to Kenya with us, to give to Jack. As Jack had started right away to utilize my book with the teachers, food providers, and families in the vegan meals project, and asked for more copies, BenBella was eager to make a contribution. They shipped fifteen copies of the book to the project in Kenya without hesitation.
What is the best way that someone can assist you in your work from their homes across the globe?
JACK LEKISHON:  People can help by donating through the following links:
1. Food Relief GoFundMe fundraiser:
2. Girl's Education Fundraiser