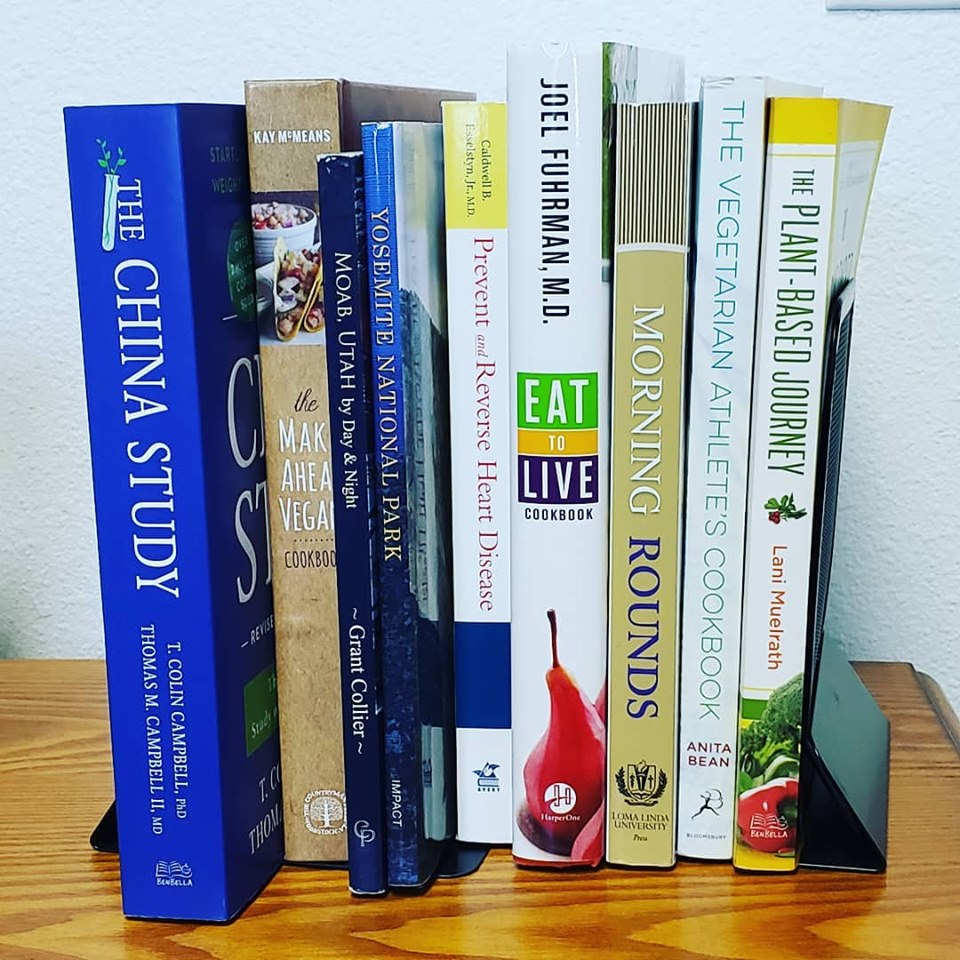 My New Plant-Based Doctor. Plus A Nice Surprise.
Yesterday, I got a new doctor. 
To my great good fortune, I was able to come on board with a plant-based doctor couple, Dr. Randal Sloop and Dr. Christine Sloop, in Chico, California.
And to my great delight, when I walked into the waiting room, there on a display shelf was a book collection for  patients and visitors to peruse while waiting.  And there in the collection, along with Dr. T. Colin Campbell's The China Study, Dr. Joel Fuhrman's book, and a couple more, sits The Plant-Based Journey.  (See snapshot above that I captured.)
When I expressed my happiness about this to the doctors, they told me they also have a copy in the exam room – you know, for all those times we find ourselves waiting there.
With the recent Camp fire in our town, which resulted in some fifteen thousand homes being burned to the ground, along with multiple businesses and doctors and dentists, many of us still with homes in these parts have found ourselves needed to scramble for new health care providers.  
Is There A Plant-Based Doctor Near You?
Wouldn't it be nice if, when you have an appointment with your doctor, you could have the assurance and pleasure of knowing that they are grounded in plant-based nutrition?
For those aspiring to eat more plants and everything else, the doctor's office is the last place you should have to defend healthy choices and conscious eating. 
Yet it seems far too often to be an unsettling experience to have to counter a doctor's eyebrow raise at the mention of no-meat-on-your-plate. There is a certain level of trust that immediately emerges when you know your doctor is up to speed with nutrition and extolls compassionate, healthy eating.
How To Find a Plant-Based Doctor Near You
To find a plant-based practitioner near you, click here.
Granted, there may be no one near you in the list.  Yet I find that this directory is regularly updated, and who knows, maybe someday near you will be just such a find.
I hope that you find a match for your needs on this list!
In good cheer,