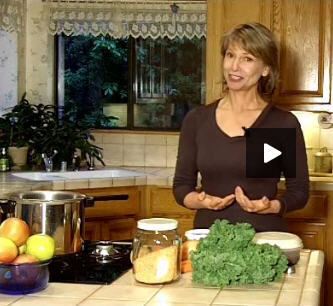 Finding it tough to get your veggies in?
You know it's at the top of the list of tips for staying trim and energetic, right?  Talk about tricks for switching off your fat genes!
Though you know it's important to keep you vegetable count high, many people struggle with doing just that.  For me, after years of veg eating,  it's a piece of carrot cake.  So I figure I can help you with what's now second nature to me.  Thus this short video that I just made for you on my super-simple-standby soup recipe.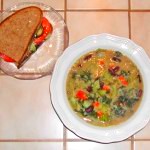 Actually, the list of veggies you could use for your basic soup recipe is endless. The more colors you mix in, the more super nutrition you get.
In my video, I've shown you my basic veg picks. This is such a simple, slimming and satisfying soup that this basic recipe has become the springboard for multiple variations. I'm sure she'll do the same for you.
In comments below, please tell me about YOUR favorite veggies for soup or your best ideas for quick and simple tricks you use to make soup in your kitchen.  Thanks!