Our driver scurried us through teeming traffic in a late-night arrival at the Nairobi airport to our lodging for the first days of our stay near Nairobi National Park.
As we drove past giant billboards that had been erected days earlier to welcome President Barack Obama on his recent visit to Kenya, we couldn't help but wonder what new encounters this adventure would bring.
Back to Africa
There's already so much to tell you about this, our second journey to Africa, in just as many years.
My husband Greg and I had come to Kenya a year ago to fulfill a growing draw to encounter the exotic, other-worldly African wildlife.
Years of service as teachers of environmental science and multiple excursions into the wild as volunteer field biologists drew us here as well. Moments into that safari experience just twelve months ago, we were hooked on Africa.
There's something about Africa that connects in a deep way to the human experience. It brings forth feelings that have never surfaced in quite the same way before. Africa is in  our collective memory, the place from where we all once came.  Once Africa gets in your blood…
World Elephant Day
How extraordinarily fitting that the images on this page were snapped and filmed the day before World Elephant Day.
I know that you are no stranger to the plight of the elephants.  These intelligent creatures have become the iconic representation of the sobering decline of wild animals and environmental degradation.
For one, the disastrous loss of habitat due to human activity and overpopulation, as elephant habitat is being voraciously gobbled up by cattle grazing and human settlement. For another, human greed for ivory trinkets and ornamentation continues to result in the poaching of elephants poaching – a rate which has not declined.
We've all heard about the intelligence of elephants, their intricate social relationships, their majesty and strength while building strong bodies on a diet of leaves, bark, and twigs – proving that plenty of muscle can be build on a plant-based diet.
Yet observing their care, respect, and connection with each other first hand has truly been a life-changing experience. Humans are not the only animals that experience deep family bonds and intricate social relationships.  The elephants, of all other species, perhaps demonstrate this in the most visible way.
Once you've seen a group of adult elephants collaborate to mastermind the gentle rescue of an infant from a muddy well, or back themselves into a full circle around a young elephant to provide protection from approaching danger, your life is never quite the same.
David Sheldrick Wildlife Trust
On our first trip to Kenya a year ago, we visited the David Sheldrick Wildlife Trust near Nairobi on no less than four occasions. This gave us multiple opportunities to spend time with our first foster child, Mbegu, then a young five months old.
She's now grown to become one of the most well-known of the orphan elephants due to her unique ability to demonstrate the skills of a matriarch, caring for other new orphans in a way usually reserved for females far older than her young seventeen months.
As a matter of fact, one of the recipes in The Plant-Based Journey – Mbegu's Spicey Peanut Sauce – is inspired by Mbegu.
Here's Mbegu today:
The Plant-Based Journey and the Sheldrick Wildlife Trust team up
This visit also gave me the opportunity to share with Edwin first hand my plans to draw more attention to the Sheldrick Trust and the plight of the elephants in an upcoming event on The Plant-Based Journey's book tour. This event will also serve as benefit for the Trust.
Edwin was pleased to hear about the benefit but also quite interested in Journey, asking me questions about plant-based nutrition.
Yet this wasn't my first visit to the orphanage office on this day.
Warthog encounters of the most interesting kind
We had arrived at the orphanage well in advance of visiting hours scheduled for 11:00 a.m.  The orphanage grounds are teeming with wildlife, including the comical yet mighty warthogs.
We noticed some eating in an area adjacent to the waiting area, took a peek at them, and while most were merrily snorting their way through a pile of vegetation, one larger fellow stood at attention and I immediately had a sense of 'take caution!'
We don't know whether I was simply in his way of escape from another warthog or if he just preferred me off the trail.
But seconds later he charged toward me, butting full body weight against me which had me soon flat on my back, muddied and torn with contusions on my arm, back, and legs – and back on my feet faster than I've even been in my life.  I recall seeing my feet in the air above me before hitting solid ground with a full thud.
I'm fine, a  bit bruised and scratched and in recovery – and ready for our safari liftoff scheduled for tomorrow.
First, it's back to the orphanage to see the kids, and report in to friends on their adoptees.  We'll be back here post safari to visit again.
So much more to tell you about already!  But it's time to head out to the afternoon adventure to the orphanage, then to dinner at the lodge restaurant down the road where we've discovered some delicious plant-based food (photos below of yesterday's lunch), and liftoff on the next leg of our journey before dawn tomorrow.
Curries, naan, salad, rice, and samosa….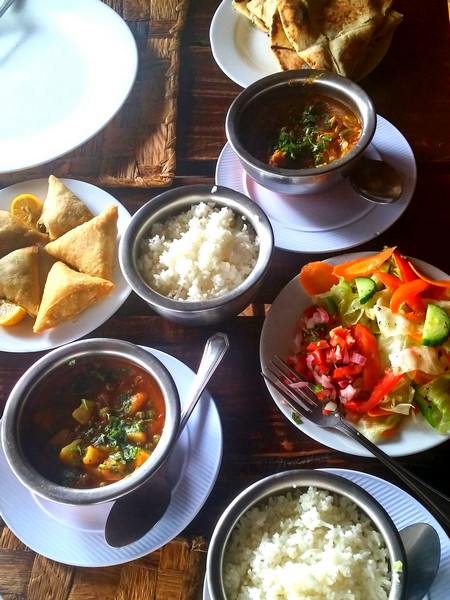 Here's what it looks like on the plate…and yes, it tasted as good as it looks.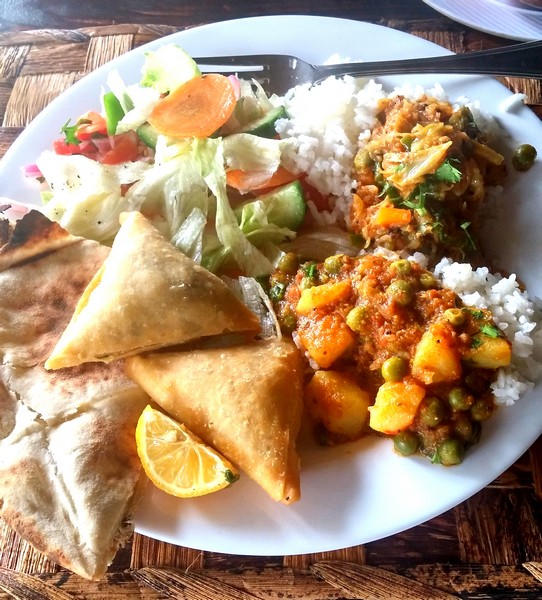 And I can't resist sharing a couple more snapshots with you…
Have you, or have you ever had a desire to visit, Africa?  I'd love to hear about your experiences!
More coming – I've got to tell you more about the food on safari!
Plants and peace,