The very same day I had scheduled to publish the recipe for Chocolate Mousse here on The Mindful Vegan blog, Christa from The Artistic Vegan did the same, accompanied by a giveaway for a copy of the book The Mindful Vegan: A 30-Day Plan for Finding Health, Balance, Peace, and Happiness.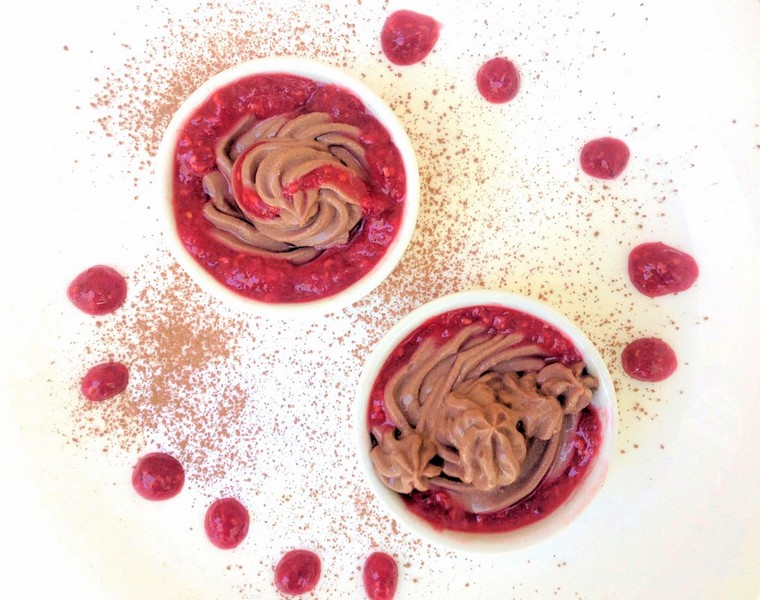 Lucky for me, Christa also took some beautiful photographs of her render of the Chocolate Mousse recipe.  Not being particularly skilled at taking splendid food photographs, I asked Christa if I could publish her photos on my blog as well.  To which she generously and kindly responded, "Yes!"  So all photos on this page related to Chocolate Mousse – and her talent of adding extras such as raspberry chia jam – are to her credit.   Thank you Christa!
  This is how Christa starts out: 
By page 7 of The Mindful Vegan I was captivated. Not a cookbook, but a book on mindfulness. Teaching you to embrace a mindful meditation practice and taking that mindfulness into your daily activities from walking to brushing your teeth. Living in the moment, the now, just being and embodying conscious awareness in all aspects of life. The book provides insight to mindfulness, being a mindful vegan, cultivating a peaceful mindset that is loving and compassionate, open and free. It invites you to join on a 30 day journey with daily meditation practices, techniques, tips, discussions pre and post meditation for reflection with beautiful soulful quotes along the journey.

In the very back, at the end of the 30 day journey are some tantilizing recipes. While all truly sounded enticing, I couldn't help but make the Chocolate Mousse. I was enticed by her new method of steaming the tofu before processing it to remove the beany flavor. I thought that was so interesting and smart! It smells heavenly, uses healthy plant-based ingredients and is puffy as a cloud, creamy, soft, and perfect vegan mousse in texture, consistency and best of all taste. It's delightful, airy, whipped! We had a little raspberry chia jam with ours and ooh my, we savored each and every single bite. Give it a try, she's graciously shared it with all of you.
Now…on to the recipe for Chocolate Mousse!
Chocolate Mousse Recipe
from The Mindful Vegan, by Lani Muelrath
8 servings
I've come across several recipes for vegan chocolate mousse, but every one of them I've found too sweet or used large quantities of candy in the form of melted chocolate chips. Left to my own devices, I've come up with what I think you will agree is the perfect chocolate mousse.
8 dried dates
2 (12.3-ounce) packages of Mori-Nu Silken Firm Organic Tofu (see note)
3 teaspoons vanilla extract
½ cup cacao powder
2 tablespoons tapioca flour
1 tablespoon triple sec (optional)
1 tablespoon crème de cacao (optional)
1. Cover the dates with ½ cup of hot water and let sit for an hour or overnight.
2. Steam the tofu over boiling water (use a steam rack as you would for vegetables) for 10 minutes. Let cool.
3. Combine all ingredients in a food processor or blender and process until creamy.
4. Pour into individual dessert cups and chill for several hours before serving.
Note: The secret to making desserts or cream sauces using tofu, I've discovered after much experimentation, is to cook the tofu first. This extracts any beany taste, and you'd never know that there is tofu in the recipe. I simply place blocks of tofu in a steam basket in a pan on the stove and steam them for about 10 minutes. This recipe also makes a fine chocolate mousse pie— just pour the mousse as prepared above into a prepared pie shell and chill.