Beans, legumes, pulses.…whatever you call them, cultivating the habit of beans in your daily diet is a must in your skinny tool kit.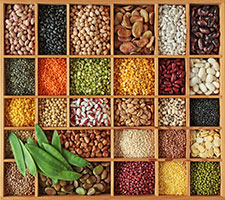 Why?
Beans are:
packed with protein
crazy with quality carbohydrate
finite in fat
full of fiber
very versatile
downright delicious
cheap!
It's an endless list.
Surprisingly, this lowly food that is at the top of my list puzzles those less familiar when it comes to how to prepare beans, or work them in.
Honestly, just a couple of ideas will open up the floodgates of your bean sense and you'll be on your way!
Easy steps to cooking beans:
1)  rinse and check through for pebbles (I don't always get to that second step)
2)  cover with double depth of water and soak overnight
3)  rinse, cover again with water and cook for 2- 3 hours on the stovetop or in a crockpot.  Beans vary greatly in how much time they take to cook;  it also can be dependent on how long the beans have been drying and how much moisture is left in them
OR, my favorite method, pressure cooking:
My favorite method is to go from Step 2 above to boiling the beans for about 15 minutes.  I pour off this water, then pop the beans into the pressure cooker and cover with an extra couple of inches over the top again.   Pouring off the first water is a sure way to "de gass" the beans.
I then bring the beans up to pressure for 12 minutes, then just turn the burner off and let the pressure come down on its own.  If I need the beans in a hurry, I cook the pressure cooker and bring the pressure down right away.
Now the beans are ready for whatever you want to do with them!
Also, many beans come already cooked in cans.  I always have canned beans as backup for those times when I'm in a rush.  Just rinse and go!
Favorite Easy Preps for Beans
1)  black beans or pintos over a pile of rice with salsa:  pico de gallo, Lizano (got hooked on this one in Costa Rica), salsa verde….your favorite!
2)  garbanzo beans whipped in a food processor, blender or Vitamix into hummus for sandwiches, salads, dressing, and dips:
2 cans garbanzo beans
2 – 3 Tablespoons lemon or lime juice
water to thin
pinch of salt
Variations:
add roasted red pepper, garlic, cilantro, parsely, and or 1 Tablespoon tahini (sesame butter)
3)  bean dip: mash pinto beans with salsa for dip and sandwich spread
4)  split peas and lentils cook faster than the larger beans, and cooking a pot of these sets you up for a giant pot of soup that will last for days:  add carrots, onions, kale.
5)  red beans are a savory favorite for simply piling on grains or popping into soups.
6)  open cans of kidney beans or garbanzo beans to crown any salad.
7)   mash cooked pinto or red beans and add to soup as a creamy base.
This is just a partial list of beans you can find, these just happen to be the ones I use most often.
AND this just popped into my email today.  Is this perfect timing or what?
5 of the Best Bean Recipes from Mary McDougall, including:
Lentil Curry Soup
Hearty Minestrone Soup
Quick Black Beans
Beans and Greens
Spicy Garbanzos
'Bean' appetit!
More about beans, legumes, and how to easily amplify their place on your plate in The Plant-Based Journey:  A Step-by-Step Guide to Transition to a Healthy Lifestyle and Achieve Your Ideal Weight.