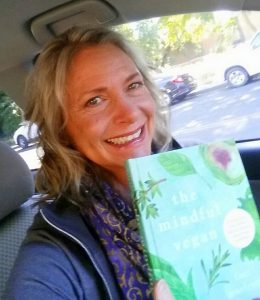 In this interview for North State Public Radio, Nancy Wiegman of the popular show Nancy's Bookshelf interviews yours truly about  my book The Mindful Vegan: A 30-Day Plan for Finding Health, Balance, Peace, and Happiness.  I snapped the photo (left) just before stepping inside the North State Public Radio (local NPR affiliate) in Chico for this interview.
In this interview, find out:
~ How I got started on my path the vegetarian/vegan – 45 years ago!
~ What does being 'vegan' mean, anyway?
~ Excerpts from Dr. Neal Barnard's Foreword to The Mindful Vegan
~ Insights into the over 1600 surveys conducted during the writing of The Mindful Vegan. What did people most want help with?
~ My watershed moment!
~ Common misunderstandings about mindfulness practice – and a simple description for you
~Why mindfulness meditation practices begin with a focus on the breath
~ Find out about S.T.O.P – the simply process for relieving stress and restoring mindfulness in and instant
~ Learn what role Dr. Dean Ornish had in the writing of this book
~ Find out the most important thing to keep in mind when having a conversation with those who are not vegan or vegetarian
…for starters!
Nancy is a delightful host, very positive about diving into all things vegan and mindfulness.  As a yoga teacher herself, she has a solid background in these things.
I hope you enjoy the show!  Please share your thoughts in replies below, or on the YouTube page itself.