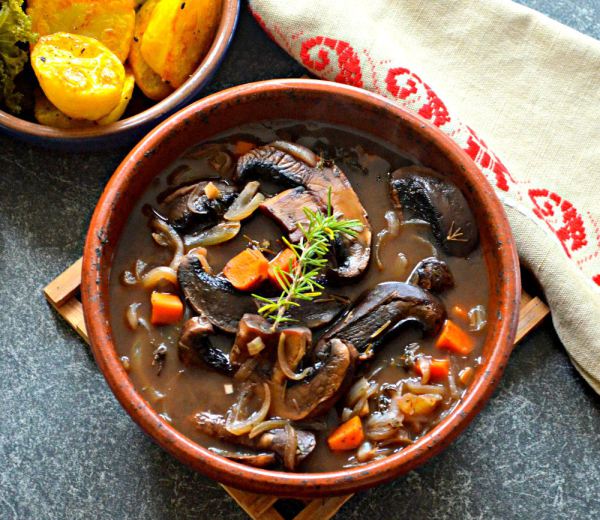 Portobello Pot Roast Recipe from The Plant-Based Journey
Portobello Pot Roast from The Plant-Based Journey has been such a runaway hit that we've decided to publish the entire recipe here for everyone to enjoy.  Just a glimpse of all the goodies you can expect with the recipe sections in Journey!
This recipe is a little bit lengthier than most – but as the pictures and taste tests can attest, so worth the effot.
This recipe came to me as a happy surprise from Jim Presentati.
I first met Jim while writing the manuscript for The Plant-Based Journey.  We were on an afternoon ride on our favorite mountain biking trail. Soon after he told me his phenomenal plant-based success story (see page 70 in Journey), Jim raved about the "absolutely delicious portobello mushroom pot roast" that his wife Kathy makes.
The next time I saw Jim, he mentioned it again. Time to investigate!
When Kathy graciously sent me her recipe, I couldn't help but think it was a perfect match for The Plant-Based Journey. Who doesn't know and love pot roast? The portobellos make the perfect savory swap-out and create a whole new gustatory experience.
Here is my version, adapted from Kathy's recipe, with just a tweak or two.
Ingredients for Portobello Pot Roast
1/2 cup white wine (you can also try red—I've even made this with sake), divided
4 large portobello mushrooms, sliced into 3/4-inch pieces
1 large onion, sliced
2 cloves garlic, pressed
3 tablespoons flour
1 teaspoon rubbed sage
1 teaspoon dried basil
2–3 cups vegetable broth, divided
4 potatoes, quartered
4 carrots, cut into 3-inch pieces
Salt and freshly ground black pepper or lemon pepper, to taste
2 teaspoons vegetarian Worcestershire sauce
3–4 sprigs fresh thyme
1 sprig fresh rosemary
Steps
Preheat the oven to 350 degrees.
In a large saucepan, heat 1/4 cup of the wine and add the portobello mushroom slices. Allow them to cook through and brown a bit—you'll need to keep moving them around and turning them—and then remove from the pan and set aside.
Add the remaining 1/4 cup wine to the pan and add the onion and garlic. Caramelize the onions by stirring them until they wilt and begin to brown. Remove the onions from the pan and set aside.
Mix the flour, sage, and basil together in a small bowl. Stir in 1/4 cup of the broth to create a paste, and pour the mixture into the same pan you used for the mushrooms and onions. While stirring constantly over medium heat, very slowly add the rest of the broth so that you create a gravy or sauce.
When the mixture just starts to boil, turn the heat off and add any additional seasonings you prefer. (Kathy suggests parsley and pepper.)
Add the potatoes, carrots, salt and pepper, and Worcestershire sauce to the gravy mixture. If more liquid is needed to keep the vegetables from drying out, add more broth.
Add the mushrooms and onions to the mixture and lPlace the lid on and put into the oven and bake for 1 hour. Remove from the oven and serve hot.
Yield: 4 servings
Alternate Cooking Options for Portobello Pot Roast:
If you have a large, heavy pot such as a Dutch oven that can go from cooktop to oven, you can prepare the entire dish in that fashion, as Kathy does.
Assemble everything in a big pot on the stove or pressure cooker and cook until the vegetables are done. The flavor pizzazz provided by searing the mushrooms, onions, garlic, and gravy is compromised somewhat. Yet if you're pressed for time, each variation is delicious.
Below, some snapshots of other incarnations of Portobello Pot Roast photographed by bloggers and readers who have put their own spin on this recipe!  From left to right, Emma Roche of Plant Plate and at right, from Pam Lowe-Hartley, owner and head chocolatier at Joy Lyn's Chocolates.  Photo at top courtesy of A Virtual Vegan.