It's Been a Long Time…
…since I sat down to talk with you.  And there is so much to say. So much to share with you.
First of all, I am overwhelmed by the flood of kind, loving emails, texts and messages I have received since sending out some quick announcements to my newsletter list. 
Who wouldn't be touched to find out they had been missed?  It is heartening to know that people were thinking about me, concerned and wondering how I – and we – are doing these many months after the fire that destroyed our northern California community.
So let me tell you a bit about why I have been away from my keyboard for so long. And what has transpired in the interim.  There has been a lot of change.  I'll just dive in and see where this goes.  One of the shifts inspired by the experience of the fire and aftermath has been a desire to be less concerned about appearances and protocol and to be just present with others about who I am and my experience.  So here we are.
I will close – see the bottom of the page – with Greg's recent poignant video reflection marking the one year after.
After our return to town post fire, when the ban on returns to residences above the fire zone (where our house is) was lifted, though we didn't have the losses experienced by thousands of others, we found ourselves in a completely different landscape.  Only a handful of businesses remained – a couple of auto repair shops and a random mini mart.  The streets were clogged daily with giant trucks hauling one thousand tons of debris – much of it toxic – out of the county.  Workers in bright vests and hazmat suits crowded the main thoroughfare.  Tens of thousands of trees, if not already incinerated by the fire, were being cut by the hundreds as town was leveled of its few standing conifers, dead or alive.  Burned out cars lined the streets and buildings heaped into the form left by the fire liberally peppered the landscape.
As grocery markets were non existent along with any semblance of services, it meant a forty minute drive down the mountain to Chico town to get groceries, dentist appointments, hardware, you name it. This was layered with the dismal fact that the journey meant a long drive through what felt like no less than a war zone.  That is coming and going.  Grim, grim. 
Anxiety and Isolation
It was a time of pretty high anxiety for me.  Even though our house and the forest right around it looked just as always,  a few blocks away the destruction began. I was also riddled with PTSD from the entire experience. This stress shows up, and continues to reveal its face, in so many ways.  Sleep was hard to come by.  A sense of urgency to get out of danger emerged often during the day.  A sense of doom of being stuck in such a remote location for the rest of my life took hold.
For the past few years,I had already started to feel a sense of isolation from community, friends, family, and support. I have always enjoyed seclusion and solitude. We both have (my husband and I). Yet as I grow older and simply enter a new season in my life, being so far from everything was increasingly undesirable, as much as I have always loved and will love the house and land we built with our own four hands so many years ago.
Yet with the devastation from the fire, the sense of isolation took on a whole new magnitude.  The urgency to relocate accelerated, and I stepped up the search for setting up home together somewhere else.
A Dramatic Shift
My attention shifted from a focus on writing, speaking, and travel with presentations to simply taking care of family and immediate community. Priorities took a decided dramatic shift, as they do in times of trauma.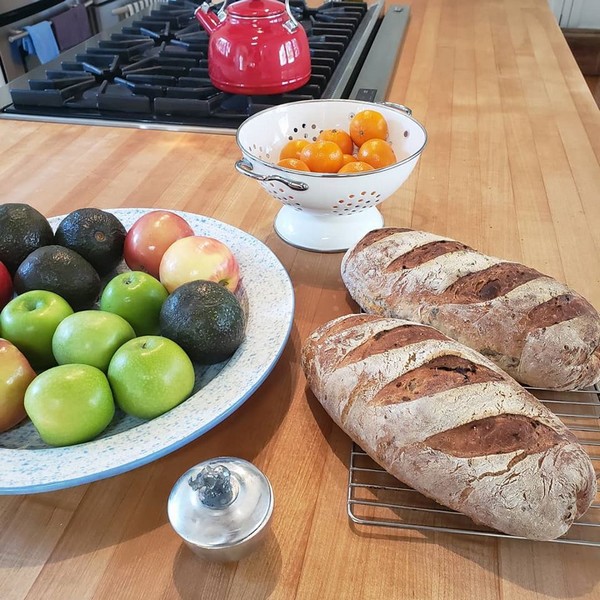 As the weeks went on, I found myself with a renewed interest in caring for our immediate environment. 
This showed up in many ways. A renewed interest in cooking emerged, catching me by surprise though certainly pleasing my husband.  I became very concentrated on organizing and lightening the contents of my office space and closets at home.  I divested hangers of bagfuls of clothing that I gave away.  I recycled giant piles of papers and files from years of teaching, keeping on file only that which really seemed most immediately relevant.  I took boxes of books to Goodwill.
I took this same energy to the yard around the house.  Unnerved by the dense trees on our property and spooked by the remembrance from the fire, I armed myself with a battery operated chain saw and took out my anxieties on clearing years of accumulated debris on the forest floor in an expanding circle from the house. In truth, it felt like I barely made a dent, but it was taking action and relevant and gave me a sense of productivity that helped.  At the same time, I was doing serious research on relocation real estate and took many a half day drive to do initial scouting on potential properties.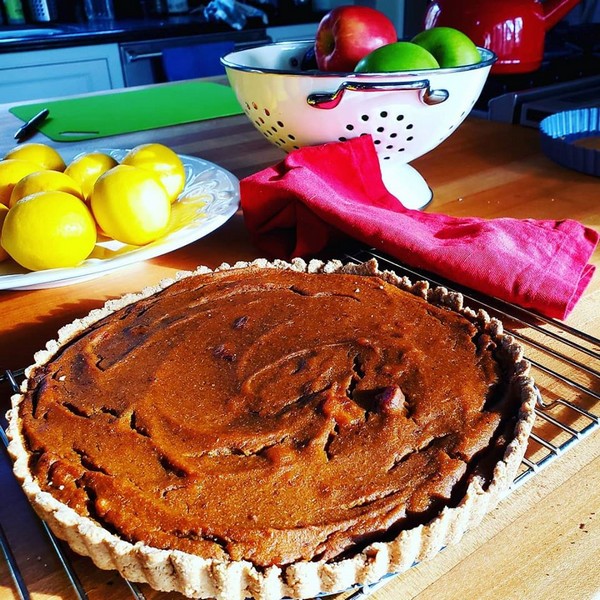 I also started baking and cooking more for others.  A sense of the importance of just being kind and generous to other humans emerged. Sharing goods from my kitchen just seemed like a direct and doable avenue to help.  
Other shifts took place.  Vanity took a holiday.  I am still well groomed and certainly know how to dress for occasion and run a comb through my hair, but the concern about how I looked or presented to others, or what they might think, evaporated in a glorious way, leaving me feeling lighter and more authentic in every encounter. These things I see as positive outcome to trauma.  There is always the difficult, but then there is always the opportunity and advantage that come on the heels of forced change.
Just like writing this letter to you.  I have abandoned many of my filters that used to slow me down and separated me from authenticity in sharing, when it comes to putting thoughts into words for you.
A New Place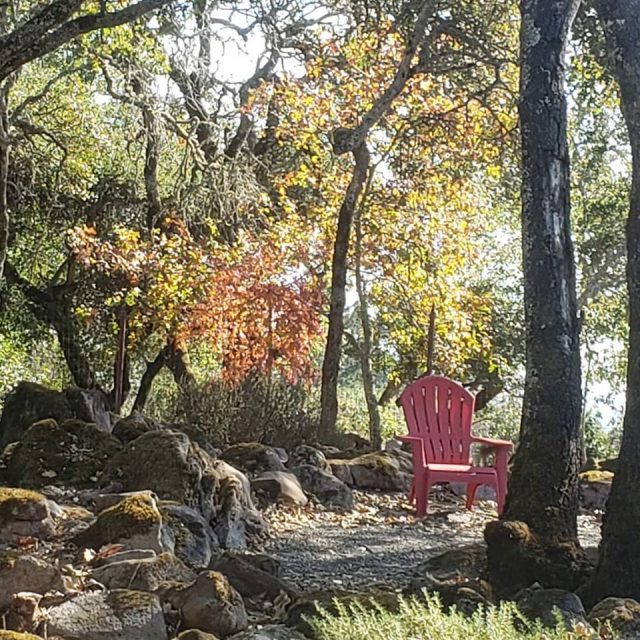 After nearly a year more of searching, we have found a home in another part of California that has a blend of quiet, seclusion, and wild, yet having the benefit of being so much closer to other elements of social connection that have become important to me.
Cousins are forty-five minutes away instead of three and a half hours.  The yoga studio is fifteen minutes down the road, as is Whole Foods Market (the nearest used to be two hours distance). 
I discovered a Zen meditation center only a fifteen minute drive away, which means more opportunities for sitting practice with other meditators. I do not have a Zen meditation background, but mindfulness sitting has a commonality everywhere and community support is very helpful to practice.
As a regular volunteer at Spirit Rock Meditation Center, I now no longer need to drive for four hours, arrange a place to spend a night or two before the long drive back. 
Spirit Rock is now an hour drive away. 
This means I can get to programs and serve there a LOT more often than I used to be able to do.  In December and January I have had the opportunity to assist at an event about mindfulness practice and veganism. I have assisted one of my teachers – Jack Kornfield –  in a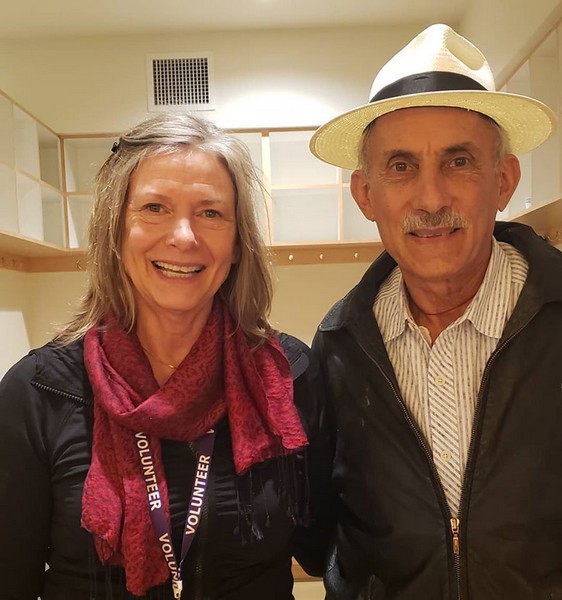 daylong course on mindfulness meditation practice.
In a few days I will be assisting the well-known mindfulness meditation leader Tara Brach in a daylong course on R.A.I.N., aka navigating difficult emotions with mindfulness practice, which I address in The Mindful Vegan.  I am particularly excited about this event as Tara is also outspoken about veganism, which seems like should be common in the mindfulness communities, though it simple is not.
All of this has also led to other opportunities that are unfolding.  I will be presenting at the second annual Mindful Eating Film Festival, organized by a team including my friend and vegan warrior Miyoko Schinner.  Last year we had 600 at the event.  This year we are moving to a new venue in Marin County, California, and are expecting up to 6,000. Dharma Voices for Animals has reached out to me regarding their Vegan Mentor program.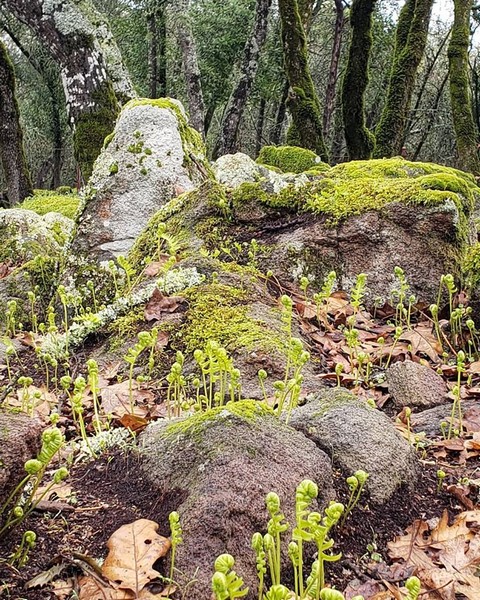 From what seemed like out of nowhere, I started receiving invitations to teach, speak, and advance causes so dear to my heart. It is as if everything was germinating just below the surface, and with the winter rains started sprouting goods just as the fern fronds unfolding in our rock garden. The ferns in the rock garden photo on this page I snapped in early winter as the palm fronds made their surprising emergence.
On top of all of this, my husband Greg and I find ourselves in the fortunate position of once again being immersed in nature so much of the day, something we prize highly. The new home we found literally borders a five thousand acre state park.  We step out the back gate of our property onto park trails and within minutes are at the marsh brimming with mallards, on the hill overlooking the valley to the coast range with several red tail hawks supervising our journey, and more often than not see coyote in the woods near the trail.  We can walk or bike for hours and be simply in nature and open space, before returning to our home a beautiful rock garden in an oak forest. 
Our darling animal companion dove, Stubby, who has been with us through the fire evacuation and with us every minute of what seems like a million comings and goings, has created a whole new world of perches inside our new home.  As you know, he is a free flying bird so we make him food stations, dirt baths, and diapered perches to give him peace and pleasure.  He has managed to find several favorite spots near Greg's photographs from our travels, such as the one of Stubby with the lion that i share with you on this page.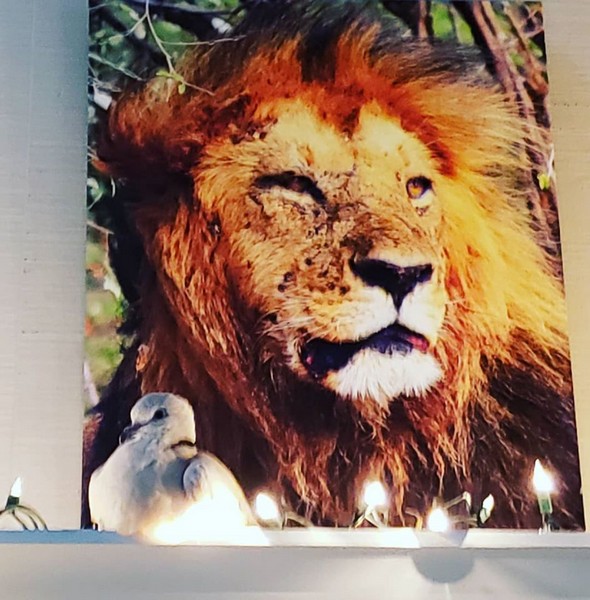 Challenges
It also sounds ideal. To be honest, I can't say it is any less than that, despite the usual challenges of making a new home fit your style, taking care of required repairs (irrigation lines with misfeeds and leaks and what on earth happened in this garage?) and customizing (way outdated kitchen faucet).
Yet we, having never moved since once or twice in the early years of our marriage (some 46 years ago), are going through all kinds of unexpected upheaval.  Living in our previous home as we did for so long, we have been pretty hardwired to it, in spite of all its quirks and mismatch for what I feel is needed at this phase of life. The post trauma from the fire also continues to unfold, continuing to surprise in layers of grief, sadness for friends who have lost homes and lives.  And all the unsettlement that anyone who moves to a new home experiences.
Yet I have discovered great reserves and a tenacity for doing the best I can to cultivate peace and well being. Through all of this, over a year now, the standards that have always been true friends I have kept in my presence.  Physical activity every day, usually more than once.  Long walks, bike rides, and now a new yoga practice emerging.  Healthy vegan food centers our plates, without rigidity of strict rules about pleasure foods on the plate, too. A sense of the real important things about life has crowded out some previous obsessions. And my gmindfulness meditation practice has been the real hero in navigating and elevating this whole experience.  Sure, I fall apart at times, just like any other human being.  I can be short tempered, impatient, and unkind.  Yet I strive for strength of heart, love, and kindness every day.
What have I left out?  There is more – the challenges of two people going through all of this together yet at our own pace has not gone unnoticed by either one of us. Yet love has carried us through and keeps moving us forward.
Below is Greg's one-year-later video reflection that puts more pictures and music to the story.
Thank you again for your kindness and caring.  It means the world.
Love,
,