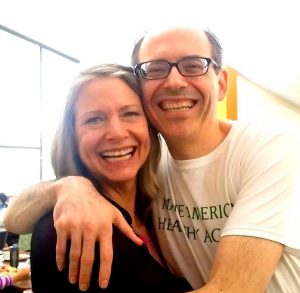 This just aired on NPR and now archived for your listening pleasure!
NPR Special Program With Dr. Michael Greger and Lani Muelrath
The Back Story
Not long ago the host of a popular local North State Public Radio program, Nancy Weigman, reached out to me and asked if I could track down Dr. Michael Greger.  She wanted to feature his book How Not to Die on her show, Nancy's Bookshelf. 
She knows that Dr. Greger and I have done some TV segments together before and figured I would know how to reach him.
And by the way, she asked, could I also come to the studio and be a part of the program?  
Yes, and yes!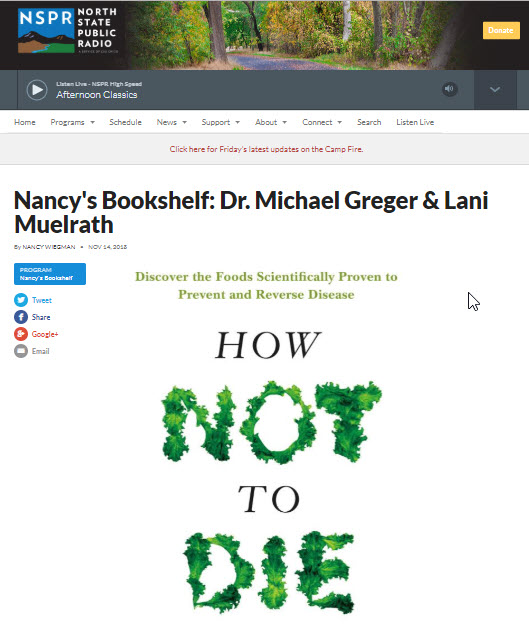 This quick moving program is an entertaining and eclectic mix of talk about plant-based nutrition, health, holiday spirit, and more between Dr. Greger, Nancy, and myself..  The first thirty minutes are primarily Nancy's interview of Michael Greger, along with a few comments and questions from yours truly.  You'll hear:
Dr. Greger's research
The three best foods to be sure to get into your diet daily
How a plant-based diet is our best choice for reversing and preventing disease
What Dr. Greger plans to write his next book about
How government subsidies are driving food choices
After the first thirty minutes, Nancy asked me to stay on and address some of the challenges surrounding dietary transition – and how to navigate Thanksgiving when moving away from omnivorous eating to plant-sourced nutrition.
You'll hear:
How most of our traditional Thanksgiving foods are plant foods
How to be more present in conversations to invite a friendlier environment around differences in food choices
How to be a more positive advocate for dietary change
How mindfulness practice makes a difference in our conversations with others as well as our ability to transform our plates – and lives.
I Meant to Tell You Earlier
I had planned to newsflash an announcement a few days prior to the airing of this show – and then the Camp Fire hit.  A few days after our evacuation from the fire and ongoing refugee status, we were running errands in town when we just happened to turn on the radio.  I turned to Greg and said "That's me!" – then I looked at the clock and saw that it was time for Nancy's Bookshelf, and of course our show was on.  So forgive me for the late notice, but you can still hear in plenty of time for Thanksgiving!
Enjoy the show and I hope your holiday is filled with ease and joy,