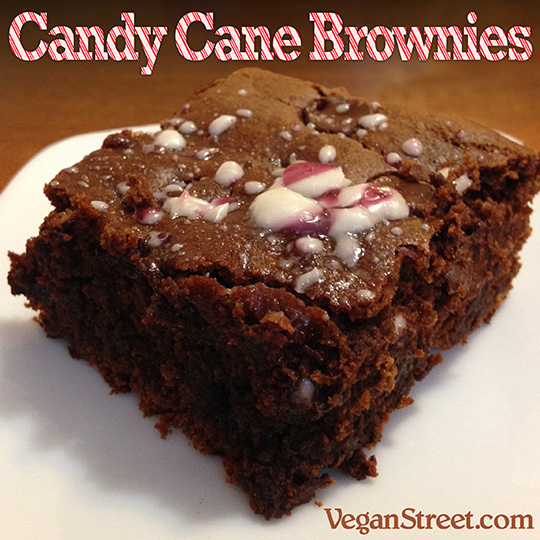 Just in case you didn't know that last week we celebrated National Brownie Day, no worries.
Celebrating a few days late is entirely acceptable.  And with this smashing new vegan brownie recipe creating from my dear friend Marla Rose of Veganstreet.com fame, you have an even better excuse.
Marla's brownie creation is low sugar and oil-free – though you can add extra oil if you want to, but why bother, these come out delectably tasty without it.  You can also skip the candy canes, which I did, not being a big fan of peppermint in baked goods.
I made a couple of other switcheroos, too.  I didn't have cooked yam or sweet potato on hand, but I did have some pumpkin left from the canned pumpkin I had opened for my Curried Lentil Pumpkin Soup.  I decided as it is about the same color and texture of sweet potatoes, why not use as replacement?  It worked beautifully.
Perfect for the Winter Holidays
"It's that time of the year when it's really easy and tempting to overindulge, when novelty nogs of various sorts become nearly as common as water and there's a cookie exchange or potluck every weekend," says Marla. "These Candy-Cane Brownies were invented as a way to scratch that itch for sweets without going overboard."
Exchanging maple syrup and brown rice syrup for sugar helps to boost the nutritional profile a bit (or maybe make it just not quite as indulgent) and switching in sweet potato puree for oil makes this treat a lot less fattening but full of rich flavor.
"These brownies aren't exactly health food – eat fruit for that," Marla adds. "But they are close enough while still tasting like a treat and with the peppermint candy canes, perfectly flavored for the season. These come out rich, dense and minty, perfect for the winter holidays."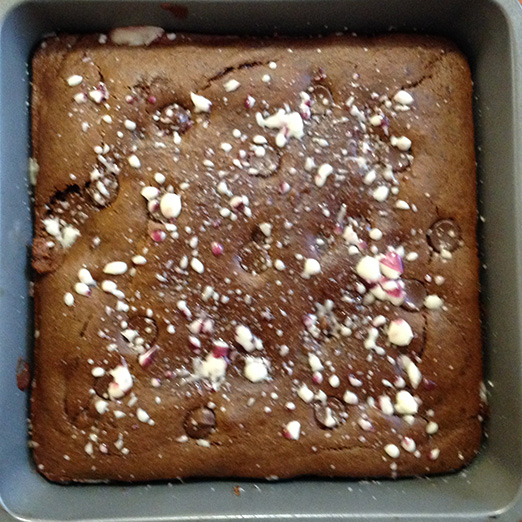 Oh, and in case you don't know what aquafaba is, it's the water in the can that accompanies canned garbanzo beans and is becoming a popular replacement for eggs in recipes – go figure.  To harvest the aquafaba for the brownies, open a can of garbanzo beans and and strain over a bowl to capture the liquid.
Marla's Candy Cane Brownies
1 tablespoon ground flax seed
3 tablespoons chickpea aquafaba
½ cup pure maple syrup
¼ cup brown rice syrup
1 ¼ cups gluten-free all-purpose flour blend or regular flour  (I used whole wheat pastry flour)
½ cup Fair Trade cocoa powder
2 teaspoons baking soda
1/8 teaspoon salt
3/4 cup sweet potato purée (I used pumpkin puree)
1 tablespoon pure vanilla extract
¼ teaspoon peppermint extract
½ cup, plus two tablespoons Fair Trade chocolate chips, divided
1 – 2 full size, vegan candy canes (not a mini and not a giant one), crushed*  (I omitted these)
Preheat the oven to 325 degrees. Line a 8-X-8 baking pan with parchment paper or lightly grease.
In a cup, mix together the flax and aquafaba with a small whisk or fork. Allow to sit for 15 minutes in the fridge.
In a small saucepan, heat together the maple syrup and brown rice syrup over low heat until integrated and more liquid-y.
In a medium bowl, combine all your dry ingredients – the flour, cocoa powder, baking soda and salt.
In another bowl, mix together the syrups, extract, flax mix and sweet potato purée.
Pour the wet into the dry ingredients; fold in ½ cup of the chocolate chips. (If the syrup is still warm, this will melt the chocolate chips, which is fine.)
Mix together until you have a smooth, thick batter. Spoon into your prepared pan and top with reserved chocolate chips.
Bake for 20 minutes. Turn 180 degrees and bake for five minutes. Sprinkle the crushed candy canes and bake 10 more minutes. Allow to cool.
* A handy way to crush candy canes is to put them in a plastic bag and roll over them with a rolling pin or hit with a hammer.
Candy Cane Brownies (with oil option)
Keep all the ingredients the same except use ¼ cup less sweet potato purée and add ¼ cup neutral baking oil. (Marla uses melted refined coconut oil.)
In baking, use the same temperature and bake for 20 minutes. Turn 180 degrees, then bake another ten minutes. Sprinkle with your crushed candy canes and bake another five minutes.
Oil-Free is All You Need On This Recipe
I haven't made this recipe with the oil and see no need to, as these brownies come out so rich without it.  At the same time, they are not overly sweet.
So perfect, in fact, that I'll be cooking up another batch for our anniversary next week. Let me know if you try this recipe and tell me all about it in comments below if you do!  Tell me your tweaks, if you used the candy canes, or switched something out as I did.
Enjoy what you eat!