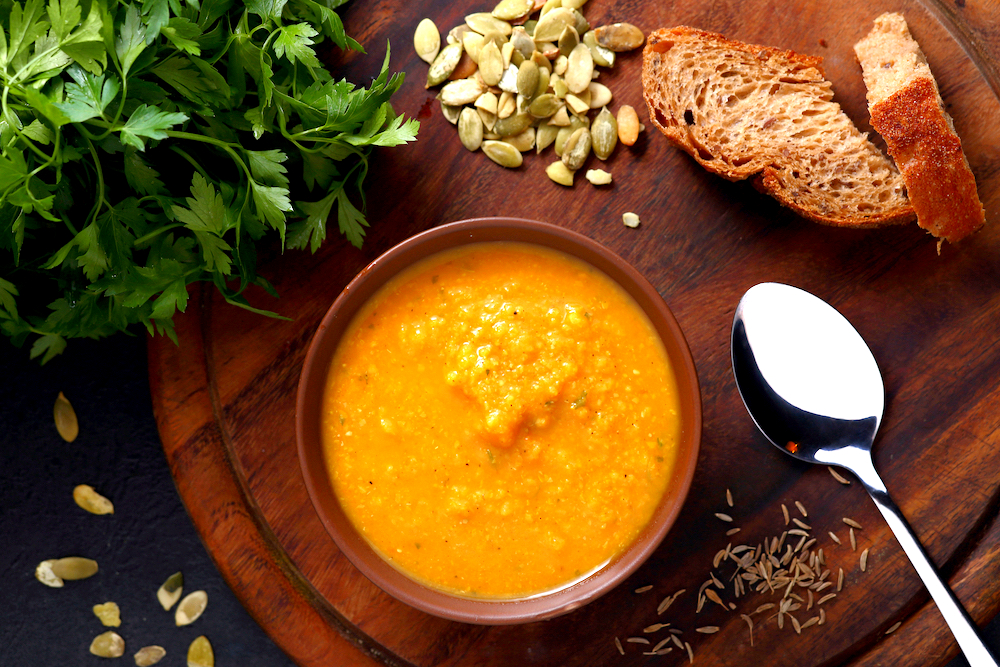 A few days ago
, VegWorld Magazine
asked me if I had a recipe for
pumpkin soup with lentils
.  They had been beset by requests for same, and – being familiar with the healthy comfort food recipe collection in
The Plant-Based Journey – 
thought I might have something to meet the holiday healthy comfort food need.
As it turned out, my 
Curried Pumpkin Lentil Soup
 was the perfect match.  Posted at VegWorldmag.com and published in their current newsletter, I am posting it here in case you missed it there. Also, this way you (and I!) will know exactly where to find it in the future.
Curried Pumpkin Lentil Soup
Pumpkin – jammed with antioxidants you can use, yet neutral enough in flavor to take on the other seasonings– grounds this delightful soup for the season.
The red lentils
add robust texture,
protein
content, and lush color. Toss in some coconut milk for added creaminess and a squeeze of lemon – enhancing nutrition and putting a nice finishing touch on the flavor – and you have the ultimate Fall comfort food.
Serve with brown rice or a good crusty sourdough bread on the side to complement the curry flavor, sprinkle with cilantro (or parsley if you prefer) for color contrast, and you're all set.
Or with tulips!  Karen at
The Veggie Republic
 whipped up a batch of this soup and kindly sent a beautiful  photo (right).
Curried Pumpkin Lentil Soup Ingredients
1 medium sweet onion, finely chopped
2 cloves garlic, minced
1 Tbsp grated fresh ginger (I use a zester)
15 oz can pumpkin purée, or two cups fresh pumpkin (even butternut squash will do) cooked and pureed
1 cup dry red lentils
5 cups vegetable broth
1 cup light coconut milk (you can replace with vegetable broth if you prefer or don't have coconut milk)
1 Tbsp curry vindaloo powder (or other curry powder of your choice)
Fresh lemon juice, about 1 Tablespoon (you can use cider or red wine vinegar in a pinch)
Salt to taste
Fresh cilantro, chopped, about 2 tablespoons, as top decoration (optional)
Instructions:
Lightly saute the onion, garlic, and ginger in a large pot over medium heat with a small amount of the vegetable broth, until the onions are soft and transparent.
Add the pumpkin purée, red lentils, broth, coconut milk, and curry powder. Stir to combine.
Place a lid on the pot, turn the heat up to medium-high, and bring to a boil.
Reduce heat and simmer for about 25 more minutes, stirring occasionally, until lentils are soft. The soup will thicken as the lentils cook.
Taste to adjust the curry powder or salt as needed, then serve in bowls with a sprinkle of the chopped cilantro on top.Chef's note: I also like to serve this with a dollop of cashew cream or tofu sour cream atop the bowl and beneath the sprinkle of cilantro – not necessary, but a nice touch if you have it on hand. Also, leftover can be reheated, thickened, and served over rice or other whole grain – the 'next day' flavor blend is divine.
Yield: serves 4 – 6. In other words, if it is the main dish, count on four servings.  If an appetizer or one of many courses, you can count on six servings.