All of us have, at one time or another, fantasized about what it would be like to have a personal chef.
If I could have my way about the matter, the person I would choose to be mine is Miyoko Schinner.
Direct to you from the Homemade Vegan Pantry Book Launch Party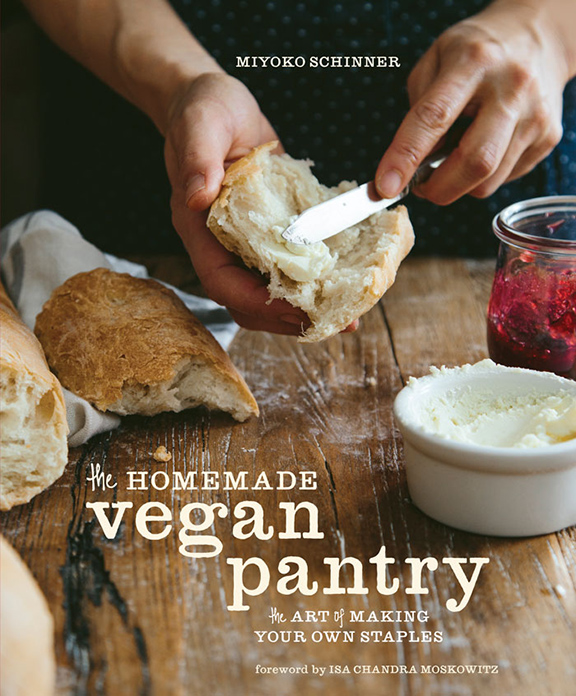 What perfect timing for this giveaway – I just returned from the festive book launch party for The Homemade Vegan Pantry held near San Francisco, California.
Miyoko has the Golden Delicious touch
Miyoko has been a source of endless cooking inspiration to me. I've learned so much from her about cooking – the kind of thing that makes you slap your forehead and think, "Of course!" or "Why didn't I think of that?"
I've had the great good fortune of not only eating at Miyoko's table on multiple occasions, and of course eating piles of the cultured-nut cheese from her kitchen, but I've been able to observe first hand how she 'throws things together' with phenomenal plant-food-on-your-plate results.
Take the time I was helping her set out a display of artisan vegan cheese and apples, and she asked me to slice the apples. I was slicing away in my usual fashion, when I noticed her looking at me quizzically.
Very kindly, she said "Here, let me show you…." The tip she taught me about how to do that quickly, easily, and to create a beautiful display at the same time, made me realize I've been in the dark ages when it comes to something as simple as slicing apples.
And it made me wonder what else I've been doing that I could, well, do so much better!
Yes Mom, you gave me a solid foundation in the kitchen. But Miyoko has some chef skills that you would just love.
Which is why, when Miyoko told me about the new book she was working on – The Homemade Vegan Pantry – I immediately knew that this was going to be of great value to me – and you.
What you'll find in the Homemade Vegan Pantry
What won't you find, is more like it.  Cake mix, pancake mix, sauces and condiments (ketchup, mayo, pesto, and jame – just to give you an idea of the vast variety included), dairy and egg-free baked goods, veggie dogs and burgers, and an entire line of desserts – it's all here.
I've had a shot at many of them and been pleased every time – including the chocolate cake and baking mix – which I get to share with you right here.
The primary focus is veganizing everything, with healthy ingredients as an important consideration.  At the same time, you will find some recipes with sugar and oil – as a matter of fact the cake mix calls for oil in the mix-together phase.  But I found it was an easy work-around, and simply used pune puree instead.
As a matter of fact, in The Homemade Vegan Pantry, this same chocolate cake mix is used for making "Oil free muffins or cupcakes" using ripe bananas or applesauce – so if you are eating and baking oil-free, you're all set.
I know that Miyoko rarely uses oils in her own cooking and knew for that reason that this would probably work.  The idea of Homemade Vegan Pantry is to give us some quick, easy shift tools to veganize familiar favorites and create scrumptious family favorites for family and friends alike.  This is a real advantage to you as you keep winning hearts to plant-based living.
Chocolate cake and baking mix*
To get a sample recipe into your hands right away, here is the Chocolate Cake and Baking Mix from The Homemade Vegan Pantry.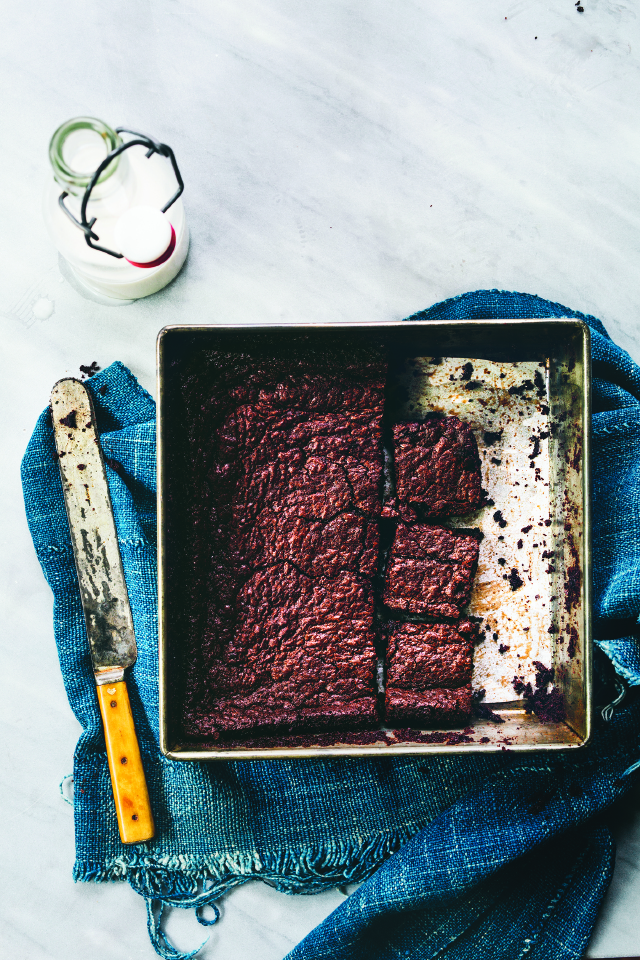 If you're looking for that perfect chocolate cake—rich, complex, but light— look no further. How about deep, fudgy brownies (pictured)? It's right here.
Or almost guilt-free and oil-free chocolate muffins? Got those covered, too.
Best of all, if you have kids like mine who tell you at ten o'clock at night that they need a treat to take to school the next day, you'll be the supermom who can whip out amazing desserts "from scratch" in moments.
3 cups whole wheat pastry flour 3 cups unbleached flour
4 1/2 cups coconut sugar, or 4 cups  organic sugar
1 1/2 cups cocoa powder  (not Dutch-processed)
6 tablespoons very finely ground coffee (espresso grind)
2 tablespoons baking soda
1 tablespoon ground cinnamon
1 tablespoon sea salt
Sift together all of the ingredients into a large bowl, then using a wire whisk, mix well until the mixture looks perfectly combined. Alternatively, you can use an electric mixer or food processor. Store in an airtight container or ziplock bags at room temperature for 3 to 4 months.
MAKES 12 CUPS
To Make Classic Chocolate Cake*
Ever so light and delicate, these laers will make an unforgetable cake sandwiched together with French Buttercream (recipe in book) , Fluffy French Chocolate Buttercream (also in book), or as I did for my birthday cake this year – layered with plant-based ice cream!
4 cups (12 ounces) Chocolate Cake and Baking Mix
2 cups boiling water
1/2 cup oil*
2 tablespoons apple cider vinegar
2 teaspoons vanilla
Preheat the oven to 350 degrees. Line cake pans with parchment paper and grease or spray the sides with a light coating of oil, or line a 12-cup muffin tin with paper liners.  Put the mix in a medium bowl.  In a separate medium bowl, combine the boiling water with the oil, vinegar, and vanilla and pour it into the cake mix in the bowl.  Whisk for at least 30 seconds.  Pour the mixture into the pans or cups and bake for 15 to 20 minutes, until the middle is springy to the touch.
*Note from me:  I replaced the oil  with prune puree.
Makes two 9-inch round or one 8-inch squary cake pans, or 12 cupcakes.
My birthday cake this year
For my birthday this year I made Chocolate Cake from The Homemade Vegan Pantry Chocolate Cake and Baking Mix.
I served it with a generous scoop of Mandarin Chocolate Ice Cream (recipe coming to you soon in The Plant-Based Journey) and found ourselves in crowd-pleasing ice-cream-and-cake birthday party perfection.
I've tried other recipes from as well, including Miyoko's easy Ketchup recipe.
As a matter of fact, at the book release party Miyoko even asked "Who has made the ketchup recipe from my book?"
I happened to be standing on a chair, snapping photos, and raised my hand in enthusiasm while enthusiastically chirping "I have!"
That explains the funny photo, below, that showed up on facebook not long after.  I'm shameless about enjoying good eats.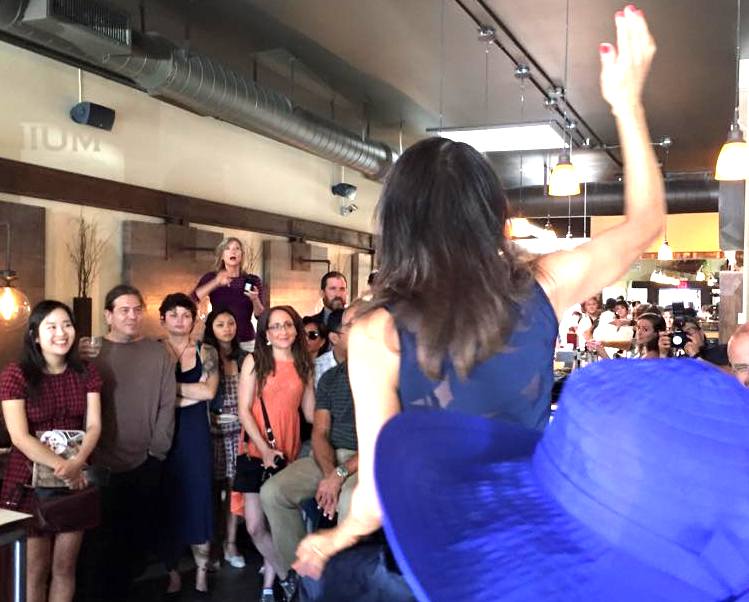 The Homemade Vegan Pantry by Miyoko Schinner book review and giveaway
I have a copy of The Homemade Vegan Pantry for one lucky winner. Follow the instructions below to enter, including posting a short comment in the Comments and Replies section further down this page. Contest ends at midnight eastern time on Monday, July 20th. U.S. residents only, please. Good luck!
*Reprinted from THE HOMEMADE VEGAN PANTRY Copyright © 2015 by Miyoko Schinner. Published by Ten Speed Press, an imprint of Penguin Random House LLC.
Photo credits:
© 2015 by Eva Kolenko. Published by Ten Speed Press, an imprint of Penguin Random House LLC.