This week I was back on the set at CBS TV to show multiple examples of plant-based party snacks so you can lighten up the holiday parties with plant-based hors d'oeuvres. Double click on the video to enjoy this four minute presentation including taste tests and recipes from The Plant-Based Journey. Program notes and recipe for Vegan Sour Cream follow.
Plant-Based Party Snack Ideas from The Plant-Based Journey
Program notes:
Tis the season for the holiday party! Yet once you walk in the door, the first thing you're hit with is bacon-wrapped everything that's usually been dipped in something and fried five times- – or worse.
And then there are the chips, and the processed foods, and the sour cream – a big wall of fat, cholesterol, calories, and animal products.  By the time you get to the dinner table for the actual meal, you've already eaten sufficient calories for an entire meal. Or two.
Today on Good Day Sacramento Marianne is with Lani Muelrath who shows several plant based party snacks from The Plant-Based Journey. The good news is that you can quickly create delicious and simple healthy, plant-based party foods that everyone will enjoy. And because they are whole foods and full of fiber, your natural fullness signals will kick in a few thousand calories earlier than the traditional alternative – and give you good nutrition at the same time.
And as Marianne so brilliantly demonstrates, "If you've ever had hummus or black bean dip – you've had a plant-based food!"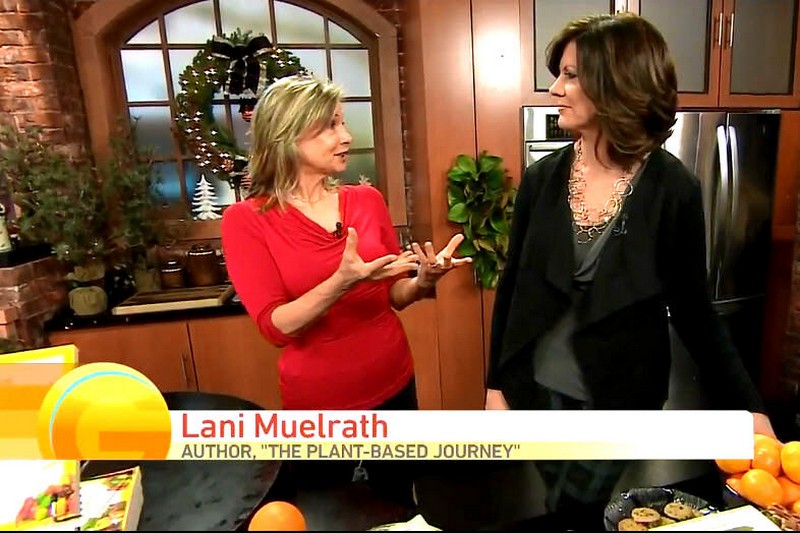 In this video, you'll see several foods made from recipes in The Plant-Based Journey to put out on your holiday buffet so you can move the plants in and push the other stuff off:
Chunky Chickpea Hummus (Journey, page 103)
Black Bean Chipotle Bean Dip (Journey, page 104)
Mbegu's Spicey African Peanut Sauce (Journey, page 203)
Lime Chipotle Chickpeas (Journey, page 206)
Vegan Sour Cream (below) with Coconut Bacon
Non-Dairy Vegan Sour Cream Recipe
½ cup cashews, soaked in water to cover for 2-3 hours, then drained
¼ cup water
1 cup silken tofu (i.e. Mori-Nu brand)
3 tablespoons lemon juice
1 teaspoon agave nectar
1 teaspoon white miso paste
¼ teaspoon salt
Soaking the cashews in water for a few hours will reduce blending time.  I combine all the ingredients in high powered blender (I use my food processor) and blend until smooth and creamy. Allow the mixture to chill for 1 hour to become thick.
YIELD: 6 SERVINGS
I wish I'd invented this recipe, but I can't take the credit. It comes to you courtesy of  my friend  of Kim Campbell from her collection in The Plant-Pure Nation Cookbook. When I asked Kim if I could use her recipe in my 7 Sauces That Sizzle collection, luckily for us, she said yes!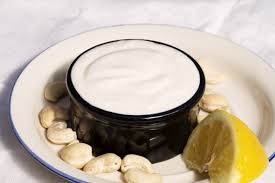 I drizzle this over enchiladas (a perfect compliment to the Turtle Beach Enchilada Sauce on page 6 of Seven Sauces that Sizzle), beans over whole grains, or drizzled into Tacos in No Time or Speedy Burritos (recipes in The Plant-Based Journey).
No need to kiss the holiday cheese tray goodbye – enter Miyoko's Creamery
You can eat whole plant foods and still have the cheese tray – just get the variety that's made from whole plant foods, such as those from Miyoko's Kitchen. Made from cashews, this cultured not product edges out dairy cheese : tasty, healthy, and cruelty free.
Other tips:  Mary's Crackers are whole food, gluten free, and are hardy enough to stand up to dips like my Chunky Chickpea Hummus.
Add the veggie tray, mandarins, apples, pears and other seasonal fruit, and build a beautiful and delicious display.
More  Plant-Based CBS TV