This week I was invited back to CBS TV to share the secrets of replacing processed holiday treats with whole food plant-based foods. Double click on the video to enjoy this five minute presentation including taste tests and recipes from The Plant-Based Journey.
Overview of video content:
Whole Foods Plant-Based Holiday Eats
Tis the season for all those seasonal foods!
That means the apples, the oranges, the cranberries, the pumpkins and other squashes.
And of course it means the other 'seasonal eats' as well:  the cookies, the candies, the cakes and the pies.
And for some of us it starts with a handful of Halloween candy starting us on a sugary sleigh ride all the way into the new year, arriving us on January one with added weight, exacerbated health problems, and a pile of regrets.
What if you could have your favorite holiday treat tastes without all the regrets?
There is another way. Would you like to hear about that?
The Processed Foods Problem
The problem with the standard issue holiday treats of cookies, candies, cakes, and pies is that they are mostly made of highly processed sugars, fats, and flours.  They have had the fiber ripped out of them – along with almost any other vestiges of nutrition leaving little but the calories behind.
More  Plant-Based CBS TV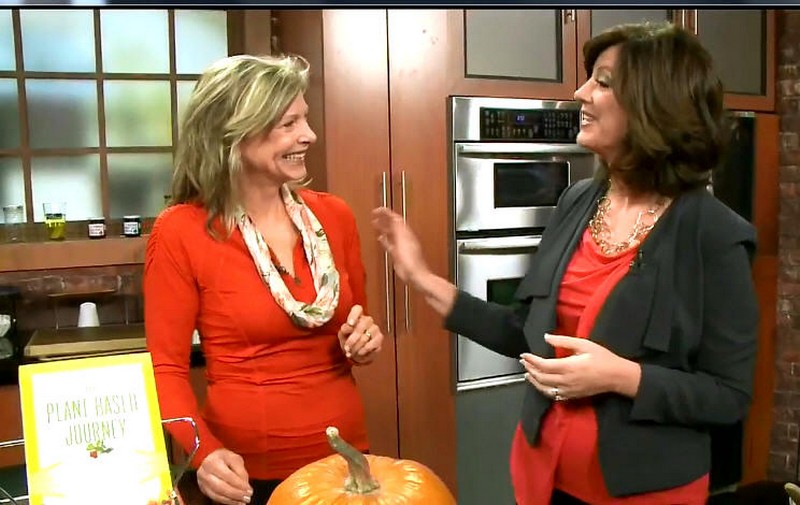 While occasional indulgences may not sink your svelte-shape ship, repeated nibbles, bites, and platefuls of rich, processed fare is what causes creeping weight gain and what can feel and look like all-out overnight bulge. This is because fiber free, concentrated fats and sugars make it easy to overshoot your calorie needs before you get full.
They make it almost impossible, as a matter of fact.
The Whole Food Plant-Based Solution
When you replace the processed sugars, fats in the form of butter and oils, and fiber-free flour with whole real foods, you take away the too-many-calories-too-fast problem.  The fiber and the natural presentation of whole foods make it far more likely that your natural fullness signals will satisfy you sooner than their processed counterparts.
The Sweet Superstar
Date cream steps in as the sweet, whole foods superstar in every creation you see in this video demonstration.  It replaces processed sugars in the goodies you see.
There are no processed sugars, no oils, and no animal products in any of the holiday treats seen here.  All recipes are from The Plant-Based Journey – and as you can see each scores high marks with Marianne McClary, co-anchor of CBS-TV Good Day Sacramento, who hosted my presentation in this segment.
Cranberry Date Orange Sauce (page 204)
Pumpkin Muffins (page 189)
No Sugar No Oil Apple Crisp (page 209)
Double Chocolate Cherry Truffles (page 210)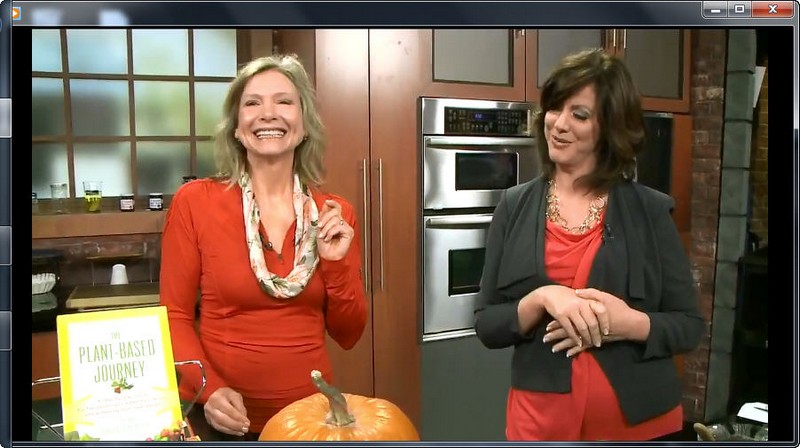 More Plant-Based Journey on CBS – Share YOUR Ideas please!
Not long before today's featured episode The Plant-Based Journey was featured in this segment, Five Fast Ways To Plantify Your Plate.  And the team at Good Day Sacramento has already invited me back. As a matter of fact the managing editor sent me a note after the Whole Food Holiday Eats segment aired that concluded with "The segment was awesome and we love having you. You are ALWAYS welcome on the show so keep the ideas coming!
This is where you come in.  Please share with me your ideas for these segments on CBS.  Keeping in mind it's short, very targeted, and needs to inform as well as entertain, what do you think would make good topic material?
We're already planning a segment about how whole foods are your best ally for weight loss without white-knuckle hunger. This can be address calorie concentration of foods as a way to understand how it all works. We plan to do that in January with the high interest in weight loss at that time.
Please share your ideas for future segments – brainstorm freely!  – in responses below.
Thanks!