In this six minute segment, filmed live during CBS TV Good Day Sacramento, find out how to make robust, savory and filling plant-based eats that will have you exclaiming "I can't believe it's vegan!" Double click on the video image below to watch.
Meaty Plant-Based Bites:  Savory Vegan Eats with Lani Muelrath on CBS TV
Cheers to Marianne and the team at CBS Good Day Sacramento for their enthusiasm and generosity with this segment!
Between you and me, they are supposed to last three minutes – but this one went on for almost six! We were having so much fun and things just kept rolling…
Recently, if you'll recall, I dropped in CBS TV's Good Day Sacramento, to demonstrate Fast Ways to Plantify Your Meaty Plate. This time we turn the tables a little bit and I show how to 'meatify' your planty plate – with all plant foods!
When people are shifting to a plant-based diet, going vegan, or simply wanting to eat less animal products and more plant foods, sometimes the question comes up:
"Is there a way to recreate the flavors and textures of meat without using animal products?"
The answer is YES, and that's what today's segment is all about.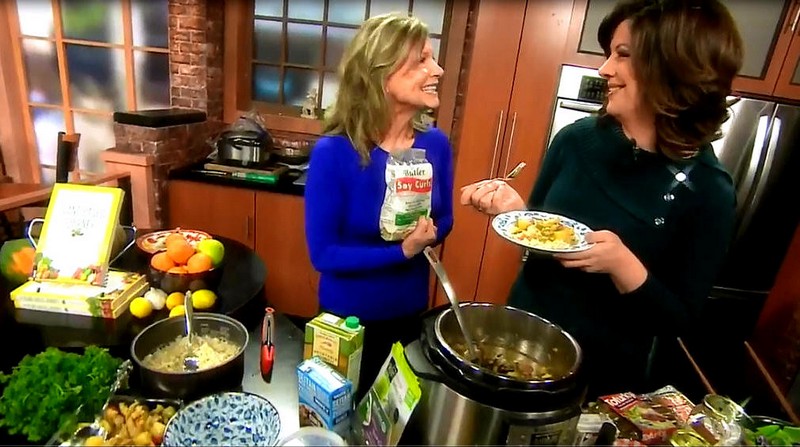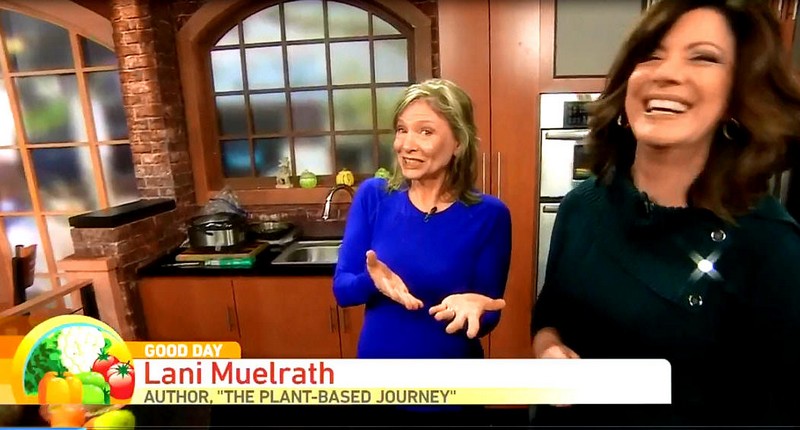 Back Story
There were some interesting developments in the show.
As I pulled my cart of goods into the studio to set up, the camera guy asked me "What time did they tell you the segment was to air? My notes say 8:15."
Now, I have a thread of emails with clear instructions for an 8:45 airing and had posted that all over social media so people could tune in live. But I've been around television studios long enough to know that when it comes to TV, anything is possible and things can go wildly crazy with scheduling at any time!  But I knew that being set up, unboxing my items, reheating things and all that was necessary – even if I took a lot of short cuts by leaving things out – that this ship would not be ready to sail by 8:15.
At the same time, I know the pressures these studio teams deal with and wanted to pitch in an any way I could….so, I set up like lightening, didn't get everything heated (and warned my cohost Marianne that the marinara sauce wasn't going to be hot!) and we went LIVE fifteen minutes early at 8:30. Fun!
After we were done, Marianne pulled together several bowls of food for her breakfast – she put mushroom meatballs in a bowl of stew, had more rice and sweet sour soy curls – and of course Chocolate Mousse Pie!
The entire studio – and hits huge – was filled with the heady aroma of the stew and the brown jasmine rice.  All in all a roaring success.
But you tell me – can't wait to hear your thoughts on this segment!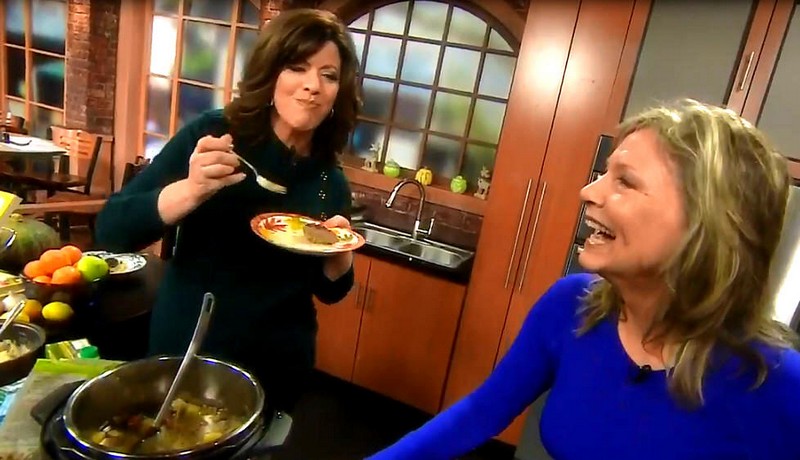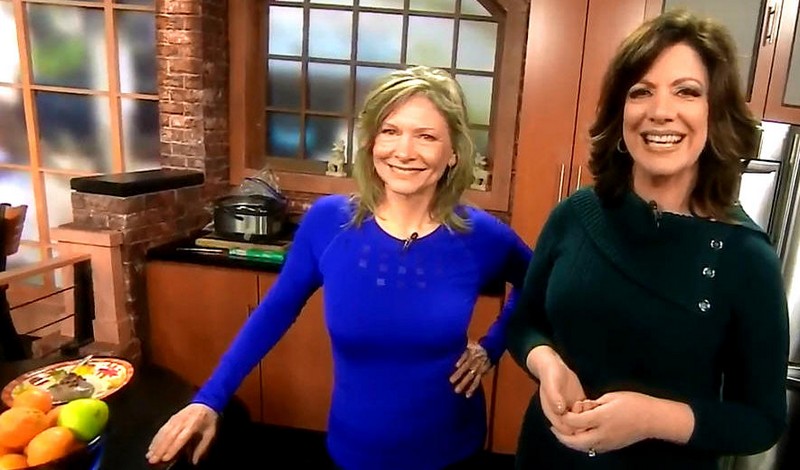 Program Notes: Products That Replace Meat – Without Losing The Meaty Taste
In this video, you will see me present three dishes that are a match for the phrase "I can't believe it's vegan!"
More and more people these days are going plant-based and looking for vegan alternatives for their meals. Yet some people are are looking for their favorite 'meaty' flavors in their food.
The good news is that not only can you make satisfying and filling vegan meals made with plant foods, but there are several foods on the marketplace designed precisely to stand in for meaty tastes – and they are healthy and easy to prepare! Segment foods list:
Sweet and Sour "Chicken" featuring Butler Soy Curls
Vegan Beef Stew featuring Gardein Beefless Tips
Mushroom Neatballs featuring walnuts, mushrooms, and lentils
Chocolate Mousse Pie
Products used: Butler soy curls Discount code for Instant Pot Pressure Cooker ($45 off) :  
Gardein Beefless Tips:  (available at Whole Foods Market, Raley's, some Safeway and other natural food stores)
Video and recipe for making Vegan Beefless Stew you'll find below and at Jill Ann McKeever's ever charming and super-informative Simple Daily Recipes blog.  Thank you Jill for sharing this spectacular recipe and video instructional!
Gardein Beefless Stew recipe (watch Jill's video at right to get a great visual!:
2 small onions, chopped
2 large celery stalks, chopped
10 white mushrooms, quartered
3 garlic cloves, minced
5 small Russet potatoes, peeled & cubed
5 small carrots, sliced 3/4 inch thick
2 packages Gardein Beefless Tips
4 cups vegetable broth
2 teaspoons liquid smoke
1 teaspoon dried oregano
1/2 teaspoon dried thyme
1/2 teaspoon ground dry mustard
1/4 teaspoon ground bay leaves
1/2 teaspoon each salt & pepper Put all ingredients in a slow cooker and cook for three hours, or pressure cook in four minutes.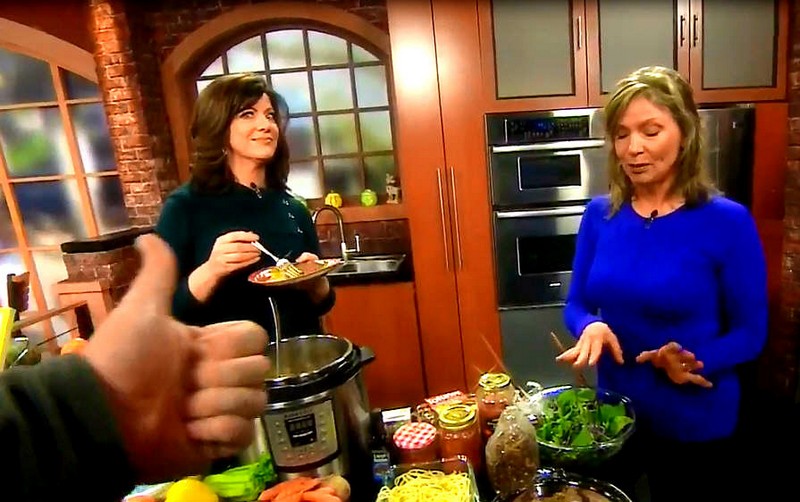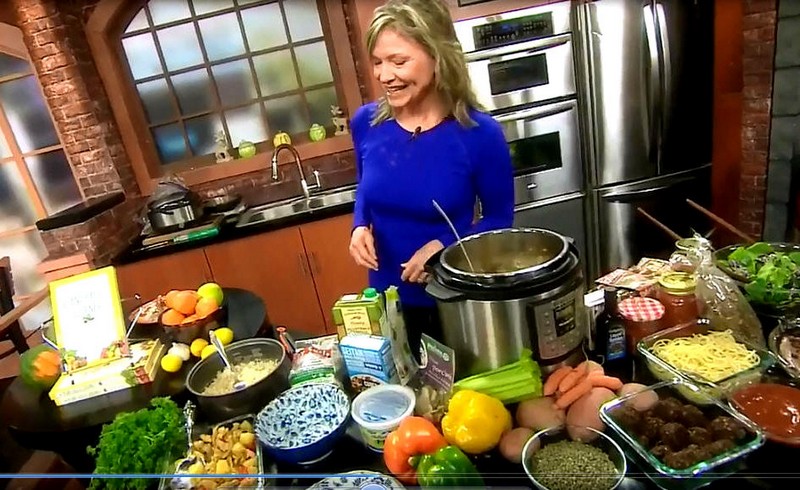 Previously on Plant-Based Journey TV
In case you've missed the previous Plant-Based Journey segments on CBS TV Good Day Sacramento: