Should you drink smoothies when trying to lose weight?  Go to  To smoothie or not to smoothie? The skinny on blending your fruits and greens for more food for thought.
As if on cue from my "greens, go in and get moving" expose, this charming and deelish video landed in my lap and I couldn't wait to share it with you.
Now, you know me. If a recipe has more than 5 ingredients, my eyes glaze over.
And Julieanna Hever's smoothie definitely has more goodies on its roster than my simple Green Drink  Resurrection!
Yet when it comes to smoothies and blended salads (as I like to call them), as long as you only need a few seconds to rip greens up and open toss in fruit chunks, I'm in baby!
At quick glance, the plant, fruits, and other sources of phytonutrients that went into Jules' smoothie included
greens: collard, kale, dandelion
seed: for omegas and more:  flax, hemp
fruit: blueberries, cherries, banana, pineapple
Did I miss anything?  Watch the video and let me know!  The point is, you can use just about anything with color and fiber and come up with a different green smoothie masterpiece every time.
Guess who's coming to my August Teleclass? And YOU are invited!
Yup, it just gets better.
I met up with Julieanna*, "the Plant-Based Dietitian" this week and she is going to join me on August 10 for a Free TeleClass all about her new book: The Complete Idiots Guide to Plant-Based Nutrition.
And YOU, cupcake, are invited.
*Julieanna Hever, MS, RD, CPT, also known as The Plant-Based Dietitian, is a passionate advocate of the miracles associated with following a whole food, plant-based diet-the established effects of which provide positive healthful benefits.  You can catch up with Julieanna on her website at toyourhealthnutrition.com.
Are you getting the healthy, fit, happy and hot news each week? Click here to join 1,000′s of  others + get your weekly health, body shaping and food advice for free. (it's tasty, fun + really good for you.)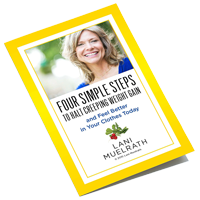 Sign Up Here to Receive My Free Report:
4 Steps to Halt Creeping Weight Gain and
Feel Better in Your Clothes Today
Are you finding it harder and harder to control your weight the more years lived? Or maybe you are simply finding it impossible to budge that last nagging bit of poundage. You're not alone and this report can help!